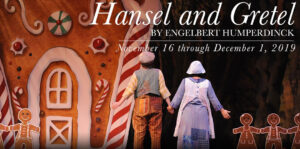 Cast
Hansel: Stephanie Sanchez
Gretel: Elena Galván
Witch/Mother: Kerriann Otaño
Father: Eugene Brancoveanu
Sandman: Talin Nalbandian
Dew Fairy: Amy Goymerac
Conductor: Joseph Marcheso
Director: Layna Chianakas
Choreographer: Mark Foehringer
Set Designer: Larry Hancock
Costume Designer: Elizabeth Poindexter
Lighting Designer: Pamila Z. Gray
As soon as I heard that for this holiday season, both Opera San José and the San Francisco Opera would be staging Hansel & Gretel, I knew I wanted to see one of them if possible. Hansel & Gretel has always been a favorite of mine, with its seamless blend of folksy fairy tale and sumptuous Romanticism. The one I managed to see was the San José production, at the historic California Theatre.
Like the homes of several other of California's medium-sized opera companies, the California Theatre is a 1920s movie palace. It's a beautiful one too, with its neoclassical white façade, its pretty columns, mosaics and chandeliers, and the Wurlitzer organ in its lobby that greets patrons with music. But on this performance day, there were some additions of a different aesthetic. There were "selfie stands" with photo standups shaped like gingerbread boys and girls. There was a juggler and a woman in a fairy princess gown, who met with visitors and posed for photos. The organist's music was also unusual for an opera house: the tunes he played included "Be Our Guest" from Beauty and the Beast and "Zip-A-Dee-Doo-Dah." The company had promoted Hansel as a holiday treat for families and they made sure that even in the lobby, the experience had child-appeal.
With so much effort to appeal to the youngest operagoers, it was no surprise to see that the production itself was a sweetly traditional fairy-tale. There were none of the "edgier" elements seen in other recent Hansel productions; no modern dress, no industrial kitchen in place of a gingerbread house, no dead children in a freezer, no sexualized Witch, etc., just old-fashioned storybook charm. Act I revealed a backdrop of a wonderfully atmospheric forest, faintly eerie yet beautiful. The shabby little hovel of Hansel, Gretel and their parents was built into a grassy mound of earth, its walls lined with tree roots, and inviting sunset-colored light gave way to spooky red light and then darkness as Hansel and Gretel first played, then got lost. Act II gave us a classic tantalizing gingerbread house, festooned with white icing, peppermints and cookies, and a cute little fence of enchanted gingerbread children, where even the cage that imprisoned Hansel was made of peppermint sticks. (Although the Witch's black iron oven provided creepiness with no sugarcoating, shaped like an anglerfish with gaping, sharp-toothed jaws for a door and spewing forth clouds of smoke.) Together with the folksy traditional costumes, the visual effect was pure fairy-tale. Admittedly, the production had a bit of a low-budget look about it – the gingerbread house was a smallish cutout façade, which sometimes shook precariously back and forth when its door was opened – but in a way this added to its old-fashioned charm.
Still, this was no paint-by-numbers production. The staging was peppered with small creative touches, sometimes with a hint of modern irreverence. A playful spirit was established at the end the overture when, after a small light show that evoked the shapes of trees, Hansel and Gretel ran out in front of the curtain playing tag, then stopped and looked around in awe at the audience watching them, then "lifted" the curtain themselves to enter the story. More playfulness was evident in the comically glamorous Dew Fairy, with her coiffure of cascading, water-like blue hair, who shot confetti "dew" from a cannon. Then there was the Witch, who initially sported a fairly traditional dress and pointed hat, but later shed her outer layer to reveal an androgynous steampunk outfit that combined knickers, a bustle and a necktie, and lost both her hat and her curly wig to reveal a bald head with only wisps of red hair. Instead of flying on her broomstick, she opted for a ride on a bicycle, in what seemed like a shout-out to Miss Gulch from The Wizard of Oz. (She still had a broom, though, with sparkling bristles, which she used in place of a magic wand to cast her spells.) Her gingerbread form in the end was just as quirky as she was, dressed in 19th century undergarments etched in icing and standing in a hands-raised, wide-mouthed stance of comic terror. But the original touches included beauty as well as quirky humor. In the Dream Pantomime, the fourteen angels (played by children) wore green robes and had no wings, but sported "halos" of tiny firefly-like lights and carried orbs of golden light, looking more like wood nymphs or A Midsummer Night's Dream fairies than like standard church-window angels, and they performed an elegant processional dance while Hansel and Gretel's dream-selves scampered among them.
The most unique touch of all was an expanded role for the Sandman, here portrayed as an androgynous, balletic figure in a black jerkin, hose and boots and a shimmering black and purple cloak. During the "Witch's Ride" orchestral interlude in Act I, Hansel and Gretel were shown leaving a trail of stones to mark their way through the forest (a nod to the trails of pebbles and breadcrumbs in the original Grimms' tale), but unnoticed, Sandman followed behind them and picked up each stone, leading to the children getting lost. At first I and probably other audience members were confused by how this fit with his comforting the children later. But Act II cleared it up. The Sandman was revealed to be the Witch's slave, silently and somberly bringing her everything she needed, bringing sweets to fatten her captives and carrying her magic broom. But it was soon clear that he despised the Witch. He was the one who secretly handed the magic broom to Gretel, letting her free herself and Hansel from the Witch's body-bind spell, and then celebrated the Witch's demise along with Hansel and Gretel, then took up the broom and worked the magic to restore the gingerbread children to human form.
The performance was sung in Marcie Stapp's good, solid English translation, and every singer made the most of her or his role. Stephanie Sanchez and Elena Galván gave sterling performances as Hansel and Gretel, alternately scrappy and sweet, playful and vulnerable, silly and tender, with Sanchez's lightly shaded mezzo perfectly matching the boyish figure she cut, while Galván's sweet, plummy soubrette soprano was irresistible, only occasionally turning strident on high notes. But it was Kerriann Otaño who had the most daunting task, taking on the roles of both the Witch and the Mother, and despite looking a bit youthful next to the two "children" in both roles, she handled them masterfully. Her rich, dark lirico spinto soprano soared and sparkled throughout, while as the Mother she captured just the right blend of temper, weariness and affection, and as the Witch she was truly irrepressible in her cackling, scheming, cajoling, gleeful wickedness. (Along with the dual role casting, the production took pains to highlight the Freudean parallels between the Mother and the Witch – both characters had red hair, they wore similar shades of orange and rust, and the Witch's magic broom paralleled the broom with which the Mother tried to spank Hansel and Gretel.) Eugene Brancoveanu, a familiar face to me from the Mendocino Music Festival, brought a warm, pleasant baritone to the role of the Father, if lighter and less powerful than is ideal for the role, and cut a likeable figure both as a jolly drunk and as a concerned parent. As the Sandman, Talin Nalbandian brought a lush, sweetly caressing sound to her aria and cut a striking figure in her extended pantomime role, while Amy Goymerac was a funny, warm and sweet-voiced Dew Fairy. The children's chorus was small and slightly underpowered, but still did a fine job. Joseph Marcheso led the Opera San José Orchestra in a lithe and sumptuous reading of the score.
With this Hansel, Opera San José achieved its goal of providing a beautiful holiday treat for the whole family and providing its youngest visitors with a great introduction to the world of opera. I certainly enjoyed it from beginning to end and I'm sure I would have loved it at age ten or eleven too. I can hardly wait for the same company's upcoming Magic Flute in the spring and for its other future offerings too.