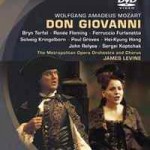 Don Giovanni
2000, Metropolitan Opera
(Bryn Terfel, Ferruccio Furlanetto, Renée Fleming, Paul Groves, Solveig Kringelborn, Hei-Kyung Hong, John Relyea, Sergei Koptchak; Metropolitan Opera Chorus; Metropolitan Opera Orchestra, cond. James Levine)
(dir. Stephen Lawless, after Franco Zeffirelli; video dir. Gary Halvorson)
This excellent Giovanni inaugurated the Met's 2000-2001 season and is worthy of the honor. Franco Zeffirelli's lovely scenery may be slightly grandiose for Mozart with its enormous gates and columns, but together with Sylvia Nolan's elegant 18th century costumes, it creates a sumptuously realistic atmosphere that suits the opera's lighthearted and serious elements equally well. Likewise a near-perfect balance between comedy and drama characterizes Stephen Lawless's lively staging – a refreshing change from the oppressive darkness that dominates so many other Giovanni productions. Best of all, under Lawless's direction, every one of the principle singers offers a rich and memorable characterization.
Bryn Terfel is a towering Don Giovanni. Though his rotund physique is less than ideal for the role, he fully compensates with his rich, virile bass-baritone and vibrant acting. His Giovanni is a blend of charm, arrogance, raw sensuality and sadistic brutality, who fully deserves his fate. Ferruccio Furlanetto's fourth filmed Leporello is an older, chubbier servant than his first three, but still a lively, engaging and rich-voiced presence. Renée Fleming, on the rise to superstardom, is a creamy-voiced, passionate Donna Anna, while Paul Groves brings a warm, clear lyric tenor and a good dose of fire and strength to Don Ottavio, despite a lack of richness in the upper register. As Elvira, Solveig Kringelborn sings with a fine Schwarzkopf-esque soprano and offers a show-stealing tragicomic portrayal of a woman enraged yet hopelessly in love, though her melodramatic facial expressions rob the character of some of her dignity. Hei-Kyung Hong is a thoroughly charming Zerlina, fully believable both in her coquettishness and in her tenderness, while John Relyea is a rich-voiced, vivid Masetto, alternately wry, fiery and sensual. Sergei Koptchak's Commendatore sings with a fairly wobbly, nasal bass, but he still makes an imposing impression in his stone armor. Last but not least, James Levine leads the Met Orchestra in a first-rate musical performance. Sound, picture quality, and Gary Halvorson's intimate camera direction are all outstanding.
This Giovanni is definitely one of my highest recommendations as an introduction to the work. It truly engages from beginning to end.