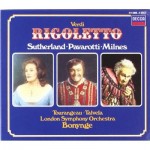 Rigoletto
1971, Decca
(Sherrill Milnes, Luciano Pavarotti, Joan Sutherland, Martti Talvela, Huguette Tourangeau, Clifford Grant; Ambrosian Opera Chorus; London Symphony Orchestra, cond. Richard Bonynge)
This eternally popular Rigoletto was my first recording of Verdi's masterpiece and what an outstanding introduction to the work it was! Few, if any Rigolettos can equal this one in sheer luxury of sound. Richard Bonynge conducts a vigorous, sensitive, theatrical reading of the complete score, and the starry array of singers fully live up to their world-renowned reputations. Verdi purists may decry the unwritten high notes that the cast so often interpolates, but with such magnificent voices I think the practice can be forgiven. And while some of the vocal acting is less sharp than on other recordings, drama is present nonetheless, and the tragic heart of the opera stands firm and clear amid the musical charms.
Sherrill Milnes's Rigoletto is nothing short of fantastic. His powerful Verdi baritone seems tailor-made for the role, with beauty, gravitas and an outstanding range (up to a thrilling high B-natural in his final passage), yet just enough of a rough edge to suit the personality of the bitter hunchback. Furthermore, he brings the character to life in all his biting humor, anger, fear, tenderness and anguish. The other two lead singers lack his dramatic insight, but they fully compensate with their vocal splendor. Luciano Pavarotti is a Duke of Mantua for the ages, his legendary voice as bright, smooth, shimmering and luxurious as a robe of gold-embroidered satin. Almost equally enchanting is Joan Sutherland's Gilda: say what you will about mature tone, messy diction or lack of emotion, her soprano gleams with jewel-like purity and effortless agility. Martti Talvela's growling bass brings appropriate menace to Sparafucile, while Huguette Tourangeau's garnet-toned Maddalena contributes well to the Act III quartet and trio. Clifford Grant is a fittingly thunderous Monterone and the minor roles are all effectively filled.
In my humble opinion, this Rigoletto is essential for every Verdi lover. Rarely, if ever anywhere else has his great score been more resplendently performed.