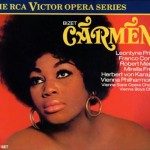 Carmen
1963, RCA Victor
(Leontyne Price, Franco Corelli, Robert Merrill, Mirella Freni; Wiener Staatsopernchor; Wiener Philharmoniker, cond. Herbert von Karajan)
This recording is the quintessential example of "Carmen as grand opera." If you dislike Guiraud's recitatives, or if your ideal Carmen is one performed with lithe opéra-comique finesse, this version is one to avoid. But if, like me, you sometimes enjoy the grand approach (or even prefer it), then this is easily one of the best Carmens available. Herbert von Karajan's conducting may be fairly slow-paced and lack "authentic" French style, but he compensates with endless sparkle, sensuality, and of course tremendous dramatic power. And though his powerhouse principle singers are a very Italianate group, with French diction that leaves much to be desired and more broad passion than subtle dramatic insight, there's no denying that they provide a magnificent sound experience.
It amazes me that Leontyne Price never sang Carmen onstage, because in this recording she seems born for the role. Her sumptuous, juicily feminine yet darkly smoky soprano evokes all the seductiveness and strength of the character, as does her vocal acting, more vivid than anyone else's in the cast. With equal ease she giggles and teases, purrs with sensuality, growls in rage, shudders in fear of death and yet defends her freedom with her life. Her Don José, Franco Corelli, lacks her dramatic nuances, but he thrills nonetheless with his dark yet ringing, blazing volcano of a voice. I wouldn't call this José an elegant one, but his raw fury and agony are unforgettable. Robert Merrill is likewise hardly a refined or subtle Escamillo, but his rich, powerful baritone charms all the same, while the young Mirella Freni sings Micaela with a luxuriously tender, lusciously creamy tone, if little dramatic distinction. Frank Schooten's solid Zuniga, the charming Frasquita and Mercédés of Monique Linval and Geneviéve Macaux, and the rest of the supporting singers and chorus are excellent all around.
This is very much a 1960s Vienna State Opera Carmen, not an 1870s Opéra-Comique Carmen, but while it lacks "authenticity," it has no lack of musical charms or thrills. As I said before, sticklers for French finesse should probably avoid it, but for the more open-minded Carmen lover, it's a must-have for the collection.