A few days ago, much to my surprise, joy and pride, I received this Blogger Award from Raisa Massuda, whose reviews and musings on her blog, Mandolin Vision, I've always enjoyed.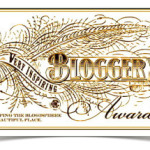 I now have to share seven facts that you may not have known about me! Here they are:
1. I come from a mixed faith family: half Jewish, half Christian. I was raised Presbyterian, but when I was growing up we always celebrated Hanukkah, and occasionally one day of Passover, as well as Christmas and Easter.
2. I love to cook.
3. I have three different library cards: one for the Los Angeles Public Library, one for the Santa Monica Public Library, one for the Beverly Hills Public Library. All three are invaluable sources for the opera recordings and DVDS I review!
4. I collect soaps. If anyone ever wants to buy me a present that's not too expensive, just look for a bar of soap with an interesting scent! (Just no mint, pine or eucalyptus, please – I'm allergic.)
5. I won UCLA's 2011 Music History Award for Civic Engagement for my opera-related work in elementary school classes.
6. My father, Peter Serchuk, has written and published two books of poetry, Waiting for Poppa at the Smithtown Diner and All That Remains. Garrison Keillor once read a poem from the latter book on NPR's "The Writer's Almanac"!
7. I dabble in New Age things and am in the process of learning how to be a Reiki healer.
And now to pass the Very Inspiring Blogger Award on to other bloggers whose work means a lot to me:
Here are the things that all the award winners need to do:
*Display the award logo (see above) in your post.
*Link back to the blogger who nominated you.
*Share seven exciting things that we, your readers, might not know about you (yet!).
*Pass the award along by nominating up to fifteen bloggers and linking to one of their specific posts.
*Notify each of the awarded bloggers of the nomination by sending them an e-mail or a tweet.
*Enjoy your award! You all deserve it so very much!