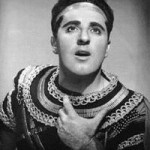 I was 14 when I heard him for the first time. I was newly in love with opera and checked out a highlights CD of Madama Butterfly from a library – I had seen two videos of Butterfly at that point but had yet to hear a sound recording of it. The CD's original case was lost, so I didn't know the names of the singers, but I didn't mind. The first track was Pinkerton's aria "Dovunque al mondo," and the moment he started to sing, this, more or less, was my reaction: "Oh wow! Oh my God! What a gorgeous voice!"
For days I listened to that CD nonstop, luxuriating in all of Puccini's music and all the voices (except the baritone's – not very fond), but especially the tenor's. Yet I still didn't know his name. My mom thought it might be Luciano Pavarotti. But before too long, I learned that the recording was Decca's 1958 classic conducted by Tullio Serafin. The Butterfly was Renata Tebaldi and Pinkerton, of course, was Carlo Bergonzi.
Looking back, I understand how my mom could mistake Bergonzi's voice for Pavarotti's. Both were sunny lirico-spinto tenors with beautiful legato and an innately noble sound, perfect for the Romantic Italian repertoire. But now that I know them both, I have no trouble telling them apart. Bergonzi's voice was a shade darker and less crisp and agile, but warmer and more caressing. I think critics are accurate when they describe Pavarotti's voice as "gold" and Bergonzi's as "bronze." Though an even more apt comparison might be "gold" vs. "caramel": Pavarotti's tone could be metallic sometimes, but Bergonzi's was always flowing sweetness. It's no wonder that he was allegedly one of Pavarotti's idols.
It didn't take long for me to find other recordings of his: the 1966 Butterfly under Sir John Barbirolli with Renata Scotto (my favorite Butterfly of all time, though I'll always love the Serafin recording too), the 1962 Traviata under Sir John Pritchard with Joan Sutherland, the 1970 Lucia under Thomas Schippers with Beverly Sills (Butterfly, Traviata, Lucia… all star soprano vehicles where the tenor tends to be labeled a thankless supporting figure… but Bergonzi's contributions could never be overlooked!) and probably his most famous recording, the beloved 1959 Bohéme conducted by Serafin, again with Renata Tebaldi. Soon after that I discovered his Cavaradossi in Tosca, his Riccardo in Un Ballo in Maschera (when I first checked out that recording, I probably listened to his "Di tu se fedele" 20 times on repeat), his Duke in Rigoletto (a role in which plenty of Verdi lovers insist he's never been surpassed), his Rodolfo in Luisa Miller, and his Radames in Aida. Some people say he was the first tenor to ever sing "Celeste Aida" romantically instead of just loudly – to tell the truth, I think any music sounded romantic when he put his voice to it.
I've always loved him, and the more I learn about him, the more I respect him, too. For his anti-Nazi activity as a teenager during WWII, which landed him in a concentration camp for three years. For the flawless technique that made his voice last half a century – how many other singers who made their debut in 1948 were still giving concerts in the late '90s and early 2000s? And for all the work he did after he retired, and as owner of the hotel "I Due Foscari" in Verdi's hometown of Busseto and as a teacher to so many young singers.
Rest in peace, Carlo – the world is a better place for having known you and will never, ever forget you.
Music Clip II: "Che gelida manina"
SaveSave