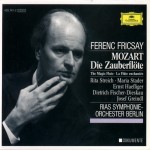 Die Zauberflöte
1955, Deutsche Grammophon
(Ernst Häfliger, Maria Stader, Dietrich Fischer-Dieskau, Rita Streich, Josef Greindl, Martin Vantin; RIAS Kammerchor; RIAS Symphonie-Orchester Berlin, cond. Ferenc Fricsay)
This '50s Flute is a bit less well known than others, but it still has its fare share of devotees. To this day the Salzburg Marionette Theatre uses it as the "soundtrack" for its Flute performances. While I wouldn't call it outstanding, it's still a fine way to enjoy the opera, with a solid cast and an orchestra led with superior skill by Ferenc Fricsay. His interpretation avoids the Romantic weight that his contemporaries tended to favor and makes the opera into a lively experience with its lighthearted and solemn elements well balanced. Some of his choices I disagree with (his brisk, bouncy take on "Bei Männern" makes it sound more like a nursery song than a hymn to love), but those moments are few and far between.
Ernst Häfliger is a charming Tamino, his warm, rich voice creating a first-rate portrait of a proud and impetuous yet tender and engaging prince. Maria Stader's Pamina is likewise warm and engaging, with a sweet, creamy timbre, though slightly heavy voiced by modern casting standards. Dietrich Fischer-Dieskau, at the beginning of his long and glorious career, is a lively, likable Papageno with an impeccably burnished golden tone: he over-inflects his two arias a little bit, but less than his detractors often claim. As the Queen of the Night, Rita Streich offers a crystalline timbre and stellar coloratura, though she lacks the vocal color and sheer ferocity of others. Josef Greindl, meanwhile, is a dignified Sarastro, less firm-voiced and sturdy than others, but his gray, gravelly sound bringing a fitting "wise old sage" quality to the role. Martin Vantin's basically average Monostatos is elevated by a unique, sympathetic reading of his aria (nowhere else have I heard it sung with pathos), Kim Borg is a sumptuous-toned Speaker, and the rest of the cast is strong all around. As usual for the day, the Three Boys are sung by women. This Flute also has the distinction of being the first to include spoken dialogue – albeit spoken by actors instead of by the singers. Why this was done I don't know, since all the singers are native German speakers and the actors' performances, while not bad, are nothing special. The Papageno is charming and the Sarastro has decent gravitas, but the Tamino and Pamina are hopelessly bland and simpering.
I wouldn't quite call this a first-class Flute, but all the same, it has plenty of pleasure to offer. I recommend it wholeheartedly to passionate Mozart lovers.
Music Clip: "Soll ich dich, Teurer, nicht mehr sehn?" (Stader, Hälfliger & Griendl)