This review is dedicated to the memory of Dietrich Fischer-Dieskau, Franz Crass and Evelyn Lear.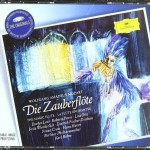 Die Zauberflöte
1964, Deutsche Grammophon
(Fritz Wunderlich, Evelyn Lear, Dietrich Fischer-Dieskau, Roberta Peters, Franz Crass, Friedrich Lenz; RIAS-Kammerchor; Berliner Philharmoniker, cond. Karl Böhm)
Of the two classic Zauberflötes released in 1964, my personal preference is for Otto Klemperer's EMI recording. But this Flute is excellent as well and I understand why it's often labeled definitive. Like Klemperer, Karl Böhm takes a Romantic approach to the score, with slow tempos and the luxurious modern sound of the Berlin Philharmonic. Nonetheless, his reading is a shade lighter and brisker than Klemperer's, more willing to embrace the work's pantomime-like qualities. From start to finish he strikes an expert balance between lightheartedness and sublime grandeur, albeit generally leaning toward the latter.
As many critics have written before, this Flute's three leading male singers are magnificent. The chief treasure of the recording is Fritz Wunderlich's unsurpassed Tamino. His sweet, elegant lyric tenor flows creamily through the score like warm melted chocolate. Almost equally endearing is Dietrich Fischer-Dieskau's second and best recording of Papageno, with his gleaming amber-colored baritone and smiling, folksy characterization. The gentle authority of Franz Crass's warmly rumbling Sarastro rounds out the first-class-array of male protagonists. The women are less impressive, but still effective. Evelyn Lear's darkly shaded soprano is more the voice of a Marschallin or Countess Almaviva than an ideal Pamina, but its caressing lyricism makes her an endearing heroine anyway. Roberta Peters sings the Queen of the Night with a fairly thin, edgy tone containing little to terrify Pamina or to captivate Tamino, but her coloratura is spot-on and she vividly projects both motherly grief and queenly rage. The Three Ladies are a matronly, unseductive trio, but the Three Boys, also sung by women, fare much better. Friedrich Lenz is a strong if overly snarling Monostatos, Hans Hotter is a luxurious toned if slightly unsteady Speaker, and the rest of the supporting cast and chorus is outstanding. The spoken dialogue is included, but heavily cut, and (with a few exceptions, chiefly Fischer-Dieskau's animated Papageno) given a subdued delivery that feels unfortunately studio-bound rather than theatrical.
While never my favorite, this Flute is definitely worthy of its acclaim. Whether you love it or have mixed feelings, no Mozart lover should pass it by.