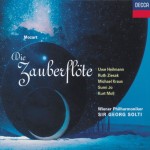 Die Zauberflöte
1991, Decca
(Uwe Heilmann, Ruth Ziesak, Michael Kraus, Sumi Jo, Kurt Moll, Heinz Zednik; Wiener Staatsopernchor; Wiener Philharmoniker, cond. Georg Solti)
This is one of the most popular, easiest-to-find Zauberflötes on the market, and it's an excellent choice for a neophyte who wants an introduction to the piece. Sir Georg Solti, with more than fifty years of musical experience behind him, leads the Vienna Philharmonic in a masterful performance, blending the brisk, lithe energy of a historically-informed reading with the rich,
grand sound of a modern orchestra: an ideal balance between pantomime and exalting allegory. And the cast, though not a starry one, beautifully compliments the conductor's expertise.
Uwe Heilmann and Ruth Ziesak make an endearing pair of young lovers. Heilmann's Tamino is slightly nasal at times and slightly stilted in the spoken dialogue, but fully compensates with the bright, creamy sweetness of his tone, while Ziesak's Pamina is sung with delicate, shining purity and lovely gentle ardor. Both of their timbres are light and pale, and some listeners will obviously miss the vocal color and richness of others, but the youth and innocence they convey is impeccable. Sumi Jo is a truly stratospheric Queen of the Night, with a crystalline tone and effortlessly glittering coloratura, while Kurt Moll's third recorded Sarastro infuses all his music with serenely rumbling majesty. Michael Kraus's Papageno is the vocal weak link, with a robust yet gruff-edged and vibrato-heavy sound, but he more than compensates with boisterous humor, sweet tenderness, and everything else that makes a Papageno lovable. Heinz Zednik's consummate Monostatos, Andreas Schmidt's smoothly dignified Speaker, memorable trios of both Ladies and Boys (the First Boy, Max Emanuel Cencic – now a renowned countertenor – has a voice as rich as a grown woman's), and a generally outstanding supporting cast and chorus complete the performance. The dialogue is abridged, but for the most part well performed, and the occasional sound effects (thunder at various points, birdsong in "Wie stark ist nicht dein Zaubertone") are atmospheric, not intrusive.
A true Mozart lover will obviously want more than one Flute recording, but no collection should be without this one, and as I said before, it's an excellent version for to start with. Other casts are starrier and some other singers' individual performances may be stronger, but few Flute recordings match the overall charm, beauty and reliability of this latter-day classic.