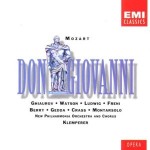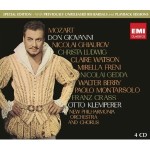 Don Giovanni
 1966, EMI
(Nicolai Ghiaurov, Walter Berry, Claire Watson, Nicolai Gedda, Christa Ludwig, Mirella Freni, Paolo Montarsolo, Franz Crass; New Philharmonia Chorus; New Philharmonia Orchestra, cond. Otto Klemperer)
This quintessential example of Romantic Mozart is a mixed bag. Otto Klemperer is unquestionably a great conductor, but his interpretation of Giovanni is slow and solemn enough to make that of fellow Romantic specialist Herbert von Karajan sound positively zippy. Granted, this approach contains moments of genius – e.g. the elegant, dance-like interpretation of "Finch'han dal vino," or they way both Klemperer and Christa Ludwig coax tenderness out of "Mi tradí" as well as neurotic angst, without weakening or distorting the aria. But all coloratura becomes graceless at such slow tempos and such orchestral stodginess is hardly a natural fit for the exploits of a reckless seducer. But nonetheless, it's a coherent interpretation (clearly the result of Klemperer's personal late-career style, not laziness) and the score never loses its innate beauty or dramatic power.
Like Klemperer's conducting, the lush bass voice of Nicolai Ghiaurov is weightier than ideal for the mercurial Don Giovanni. But what a luxurious voice it is, black velvet with the sheen of satin! Furthermore, he offers a vivid, if not gripping characterization: an amiable rogue, fun loving and even a bit of a ham, who nonetheless has a temper and no conscience to speak of. His Leporello, Walter Berry, gives a first-class performance, with a gruff yet warm, rich timbre and a perfect balance between disgruntled snarking and submissive quaking. Claire Watson is a solid, passionate Donna Anna, her agile soprano charming if slightly strident and tart, while Nicolai Gedda is a stylish Don Ottavio with an impeccably dignified golden tone. Christa Ludwig's darkly creamy mezzo is an acquired taste in the soprano role of Donna Elvira, but her singing is always beautiful and full of vivid passion, both in rage and in anguish. The Zerlina of Mirella Freni is likewise a bit unusual, her voice being a full-blooded lyric soprano rather than the usual airy soubrette, but her sweetly caressing, feminine tone endears nonetheless. Paolo Montarsolo's Masetto is handsomely sung, but unfortunately he approaches the part the same way he approached his Rossini buffo roles, as a vehicle for comic hamming. Franz Crass is a solid Commendatore, but his gray timbre is fairly light for the role, particularly paired with Ghiaurov: it just doesn't feel right for Don Giovanni's voice to inspire more awe than the Stone Guest's.
I rank this Giovanni somewhere in the middle of my list of recommendations. It will never be my favorite, but still, it's a solid performance with excellent qualities, and a worthwhile addition to anyone's collection.