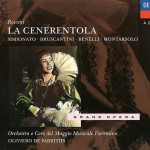 La Cenerentola
1963, Decca
(Giulietta Simionato, Ugo Benelli, Paolo Montarsolo, Sesto Bruscantini, Giovanni Foiani, Dora Carral, Miti Truccato Pace; Coro del Maggio Musicale Fiorentino; Orchestra del Maggio Musicale Fiorentino, cond. Oliviero di Fabritiis)
Of the few Cenerentola recordings that predate Zedda's critical edition of the score, this one probably most resembles the opera that we know today. All the music is heard in the order that Rossini intended, the recitatives, though heavily cut, are otherwise unaltered, and all the musical "numbers" are more-or-less intact. The only aria missing is Alidoro's "Lá del ciel;" the simpler yet charming Agolini aria "Vasto teatro é il mondo" is heard instead. It still sounds very different from the average modern Cenerentola, however. Call it lack of style or simply a different style, but rather than the zippy lightness associated with recent Rossini conducting, Oliviero di Fabritiis opts for a much slower, almost Romantic reading of the score. But never fear, opera buffa lovers. Far from being weighted down, the music still bounds and dances with joyful gusto. It's simply a more robust joy, with slightly darker shading, than on other recordings: a reading that fully embraces the opera's heartfelt qualities as well as its comedy.
Giulietta Simionato is a mixed blessing of a Cenerentola. At age 53, her luxurious mezzo is the voice of a grand dame, not an ingénue, and her trills and runs tend to bleat rather than sparkle. But the creamy warmth of her tone and the tender charm of her characterization can't be denied. Hers is a flawed performance, but an endearing one. Ugo Benelli, twenty-five years her junior, is a thoroughly charming prince with a bright, boyish, crystalline tenor. Paolo Montarsolo, in the first of three studio recordings as Don Magnifico, gives an unforgettable guilty-pleasure performance, his lusty, colorful bass milking comedy and vigor out of every note of his music. It's a performance I know I should dismiss as "hammy" or "vulgar," but that I can't help but enjoy. Sesto Bruscantini's Dandini is likewise larger-than-life, but endearing with his robustly handsome baritone and sheer comic verve. Giovanni Foiani is an effective Alidoro, with a warm and authoritative, if vibrato-heavy bass. Last but not least, Dora Carral and Miti Truccato Pace are a vivid pair of stepsisters.
While neither perfect nor quite "authentically" Rossinian, this Cenerentola will always be close to my heart. I don't recommend as an introduction to the opera, but still, its musical charms, blend of warmth and laughter, and the sheer exuberance of its performers make me smile whenever I hear it.
Music Clip: The Act II sextet (accompanied by a very quirky cartoon that makes fun of all the identity-switching that takes place in the opera)