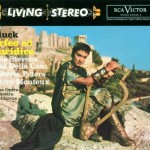 Orfeo ed Euridice
1957, RCA Victor
(Risë Stevens, Lisa della Casa, Roberta Peters; Coro del Teatro dell'Opera di Roma; Orchestra del Teatro dell'Opera di Roma, cond. Pierre Monteux)
I bought this recording after I read several glowing reviews of it. I now think those reviewers must have had a nostalgic attachment to it, because to my ear, this is one of the weakest Orfeos available. Using the Ricordi edition of the score (basically the 1774 Paris version, but sung in Italian, with the role of Orfeo scored for an alto, and minus the Act I bravura aria), Pierre Monteux conducts with elegance and moments of great charm, but with constantly slow, dragging tempos. The whole opera is treated like a 19th century Romantic piece instead of a Classical one and the result is a heavy, fairly ponderous sound world.
Risë Stevens may have been the most famous Orfeo of her day, but here, just four years before her retirement, she sounds past her prime. True, her timbre is still warm, lush and velvety, with a dusky gravitas that suits a male hero, and she offers passion if not much detail of characterization. But her singing is ungraceful, with a wide vibrato and a lower register that sounds both nasal and throaty. Fortunately the two sopranos fare better. Lisa della Casa's Euridice is charmingly sung, with her daintily sweet, Mozartian lyric soprano, though I wish she would sing with more passion and less gentle melancholy. Roberta Peters, though hardly the sweetest-toned Amore on recording, sings the role with an excellent balance between the lightness of a young boy and the quiet authority of a god. The Rome Opera Chorus, unfortunately, sounds heavy, rugged and inelegant, their voices rendered all too rough by the mono sound. Though I must admit, they make an appropriately terrifying chorus of Furies in Act II, Scene I.
I enjoy some aspects of this Orfeo, but it will always be very low on my list of recommendations. This one is for Gluck-completists only.