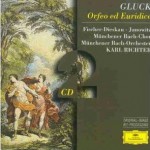 Orfeo ed Euridice
1967, Deutsche Grammophon
(Dietrich Fischer-Dieskau, Gundula Janowitz, Edda Moser; Münchener Bach-Chor; Münchener Bach-Orchester, cond. Karl Richter)
I first approached this recording out of curiosity, featuring as it does a star baritone in the originally-contralto role of Orfeo. But what draws me back to it again and again isn't its novelty, but its high quality.  Using the original Vienna edition of the score, with only the Dance of the Furies incorporated from the later Paris edition, Karl Richter leads the Munich Bach Orchestra in a performance of impeccable elegance and feeling. True, some modern musicologists might criticize the occasional "Romanticisms" he incorporates (e.g. his very slow, sighing interpretation of "Che faro senza Euridice?"), but for the most part, his conducting is lithe, sensitively paced and thoroughly, beautifully Classical.
The decision to transpose the role of Orfeo for a baritone is an odd one, from a musical if not dramatic standpoint. But the great Dietrich Fischer-Dieskau is more than up to the task. With his warm, sumptuous, burnished-gold voice, his Orfeo is a mournful yet manly hero of tremendous dignity, whose singing I imagine could indeed sway the Underworld. Gundula Janowitz, his Euridice, may lack the ideal fiery temperament, but her sweet, delicately creamy soprano makes her a lovely feminine foil to Fischer-Dieskau's virile Orfeo. The only real weak link of the cast is Edda Moser's Amore. Her lush soprano is appealing, but thoroughly womanish, even matriarchal sounding: not the voice of a capricious yet kindly boy-god. The Munich Bach Chorus sings with beauty and refinement throughout; their light, smooth sound makes them a bit less convincing as Furies than they are as tomb-side mourners and as Blessed Spirits.
While neither perfect nor "authentic," this Orfeo still contains enough artistry and charm to appeal to nearly any Gluck lover. Both as a novelty and simply as a lovely performance, its place in my list of recommendations is high.