I've written this review in honor of the movie "Quartet." When Maggie Smith's character listens to her younger self singing "Caro nome" on recording, the voice we hear actually belongs to Ileana Cotrubas, from this recording.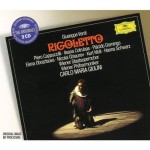 Rigoletto
1979, Deutsche Grammophon
(Piero Cappuccilli, Plácido Domingo, Ileana Cotrubas, Nicolai Ghiaurov, Elena Obraztsova, Kurt Moll; Wiener Staatsopernchor; Wiener Philharmoniker cond. Carlo Maria Giulini)
This popular Rigoletto is excellent in almost every way. Its main drawback doesn't involve any of the performances, but the sound engineering. Whoever thought it was a good idea for the dance music in Act I to be barely audible? Yes, it makes us feel as if we were in one room of the palace with the Duke and co, while the music wafts from another, but some of us would rather just enjoy the music! Fortunately, this eccentricity is only in Act I and afterwards we can fully appreciate Carlo Maria Giulini's masterful reading of the score. His tempos are slow, but never sluggish or lacking in life: he simply emphasizes the opera's tragic gravitas. This is a distinctly dark Rigoletto, in its sonorities, in its weightiness and in the timbres of most of the singers: the score has never sounded more moodily Romantic.
Piero Cappuccilli is an ideal Rigoletto. Twenty years after his first recording for Giulini, his edgy-toned Masetto in the classic 1959 Don Giovanni, his voice has deepened and mellowed into a Verdi baritone of outstanding warmth, richness and power, with only a hint of a rough edge that adds character. And he offers a compelling characterization. A fairly dark one (this Rigoletto isn't quite the gentle father that others are, but has a bit of a hair-trigger temper even toward Gilda), but one that still earns sympathy as he runs the role's gamut of mockery, rage, tenderness, anguish and horror. As the man he serves yet despises, Plácido Domingo is an appropriately suave seducer, his rich, burnished tenor infusing the Duke's music with a truly aristocratic sound. An equally shining presence is Ileana Cotrubas's moving Gilda. Her bright, sweet, impeccably girlish soprano stands out beautifully against the otherwise darkly-shaded sound world, emphasizing Gilda's status as the story's one ray of pure goodness – an effect enhanced by her heartfelt vocal acting. A luxurious supporting cast, including Nicolai Ghiaurov's black-jewel-timbred Sparafucile, Elena Obraztsova's heavy-toned, passionate Maddalena, and Kurt Moll's fearsomely rumbling Monterone, rounds out the performance.
This Rigoletto is one of those recordings that I'd recommend to any neophyte as an introduction to the work – and it's a must for any established Verdi lover. While it's not 100% perfect, I think I can safely say that it comes close.