So many people love this Turandot… why has EMI neglected it all these years? The original LP packaging was sumptuous enough, but the CD release doesn't have a proper booklet (Italian-only libretto, despite coming from a British record label!) and that's all there has been – just one CD release. While all the other classic EMI recordings have been repeatedly trotted out (Barbirolli's "Butterfly," Giulini's "Don Giovanni," Maria Callas's whole discography, etc), this one hasn't. I don't get it. Even though my personal favorite Turandot is Mehta's, this is the one I always use in my Opera Quest presentations for elementary school classes, mainly just to give them a chance to hear it.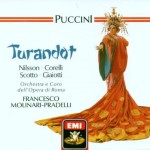 Turandot
1966, EMI
(Birgit Nilsson, Franco Corelli, Renata Scotto, Bonaldo Giaiotti; Coro del Teatro dell'Opera di Roma; Orchestra del Teatro dell'Opera di Roma, cond. Francesco Molinari-Pradelli)
Of the "big three" most widely acclaimed Turandot recordings (the other two being Leinsdorf's and Mehta's), this one gives the most emphasis to the score's raw, visceral thrills. Francesco Molinari-Pradelli has been called a decent but not outstanding conductor, and I won't disagree, but one thing his work here doesn't lack is excitement. The Act I finale (always a good example to cite when comparing Turandots) accelerates to a breakneck speed at the climax, creating musical chaos: it's not pretty, it's not elegant, but it perfectly captures the wild desperation of the moment as Calaf defies everyone. Of all the widely available recordings, this one probably comes the closest to "Turandot as verismo." Rather than classic Puccinian lyricism, or the exotic charm and majesty of the mythical Chinese setting, the chief concern here seems to be the bloody brutality and mad passion of the story.
Birgit Nilsson, in her second studio outing as Turandot, once again lives up to her magnificent reputation as the icy princess. Her piercing Wagnerian soprano has all the force, chill and grandeur of a Mount Everest avalanche, and she convinces both as a steel-hearted man-hater and in her ultimate vulnerability and surrender. The recording's true raison d'être, however (since Nilsson's Turandot can also be heard elsewhere), is Franco Corelli's gripping Calaf. His tremendously powerful, darkly sensuous voice blazes through the score like a comet. Other Calafs are more elegant both musically and emotionally (it's a matter of taste whether his verismo-tenor sobs at Liú's death are moving or laughable), but few can equal the raw excitement he offers. As Liú, tangy-timbred Renata Scotto lacks the vocal warmth and sweetness of Caballé, Freni or Tebaldi, but her distinctive voice conveys impeccable fragility and feeling. Her rendition of the torture scene is heartbreaking, with broken, exhausted tones, followed by an almost guttural, suffering yet fiery "Piuttosto mor-ró!" Bonaldo Giaiotti sings Timur with a gravelly, ragged tone, but no shortage of anguish, while the Ping, Pang and Pong of Guido Mazzini, Franco Ricciardi and Piero de Palma are likewise a rougher-voiced trio than others, but with personality to spare. The Rome Opera Chorus offers smoother vocals than on earlier recordings like the Leinsdorf Turandot, but still with enough of a big, rugged sound to enhance the atmosphere of bloodlust and burning passion. The standard cuts to Ping, Pang and Pong's Act II scena are in place.
Once again, this isn't a Turandot to choose if perfect beauty and elegance are your priorities. But if you favor unbridled intensity and excitement above all else, then for you, there's probably no greater Turandot than this one.