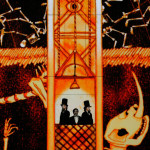 Cast
Pamina: Janai Brugger
Tamino: Lawrence Brownlee
The Queen of the Night: Erika Miklósa
Sarastro: Evan Boyer
Papageno: Rodion Pogossov
Papagena: Amanda Woodbury
Monostatos: Rodel Rossel
The Three Ladies: Hai Ji Chang, Cassandra Zoé Velasco, Peabody Southwell
The Speaker: Philip Addis
The Three Boys: Drew Pickett, Charles Connon, Jamal Jaffer
Two Armored Men: Vladimir Dmitruk, Valentin Anikin
Conductor: James Conlon
Directors: Suzanne Andrade, Barrie Kosky
Animation Designer: Paul Barritt
Set and Costume Designer: Esther Bialas
How strange it felt to arrive at the Dorothy Chandler Pavillion to see The Magic Flute, knowing that it wouldn't be the familiar production by Sir Peter Hall and Gerald Scarfe! The Hall/Scarfe Flute has served the LA Opera well for 20 years and was one of the company's signature productions, along with the Marta Domingo Traviata, the Herbert Ross Bohéme and the Jonathan Miller/David Hockney Tristan & Isolde – and, of course, it was the first live opera production I ever saw. Sentimental sap that I am, I wasn't exactly thrilled to learn that it was finally being replaced, by a Regietheater production from Germany, no less! But in this day and age, an operagoer who's not willing to see anything new or different will always be disappointed, so I still looked forward to the new Flute, especially after I heard raves about it from a neighbor who saw in Berlin. Now, having seen it, I have to say I'm glad I did, and as much as I'll always love the old Hall/Scarfe production, I'm glad the LA Opera brought this one to its stage. While certainly not perfect, it was still a truly magical Flute, filled to the brim with creative imagination.
This new Flute was created by writer-director Suzanne Andrade and animator Paul Barritt, who as a team are known as "1927." All their work, this Flute no exception, combines live theatre with elaborate projected animation to create a world inspired by early cinema. The set for this Flute was a simple white wall (containing revolving doors that brought the singers on and offstage), which served as a movie screen that transported us into a myriad of animated fantasy settings. The costumes were a blend of Edwardian and 1920s, the eras of silent film, and were nearly all in black, white and gray, as were the projections, with the singers' faces painted stark white to enhance the effect. Only now and then were there touches of color that brought to mind the hand-painted films of Georges Méliès. Papageno, in a schlubby mustard-yellow suit, looked like Buster Keaton; Monostatos resembled Max Schrek in Nosferatu; Pamina, Louise Brooks; Papagena, a feathery flapper. All the spoken dialogue was cut, replaced by pantomime that was accompanied by "intertitles" projected onto the set and underscored by old Hollywood-style music. (Yes, music that wasn't Mozart's – blasphemy!) And this production got away with being more park-and-bark than most modern opera, because all the acting was in the stilted, melodramatic style associated with the silent screen.
But this Flute did more than just turn Mozart and Schikaneder's fairy-tale into a "silent" movie – much, much more! Animation achieved feats not possible with conventional scenery and created a wild, kooky, truly fantastical fairy-tale world, full of irreverent humor and invention. The dragon at the beginning actually "swallowed" Tamino and the Ladies' bickering over him took place inside its stomach.  Papageno had a little cartoon cat as his constant companion, while Monostatos's "slaves" were a pack of wolves, sometimes "real" and sometimes animated. To punish Papageno's lying, the Ladies magically removed his mouth instead of padlocking it, and the grinning mouth floated mockingly in the air around him. The Queen of the Night was portrayed as a giant skeletal spider who trapped Tamino and later Pamina in her web; the magic flute itself was no flute at all, but represented as a shimmering nude fairy who left a trail of musical notes wherever she flew. During the "Bei Männern" duet, Papageno's tears blossomed into flowers, from which birds, bees and lovers' faces emerged; the animals that the flute enchanted weren't real animals, but constellations in the stars. The Three Boys appeared first with butterfly wings, then riding in a basket pulled by a butterfly, and finally as butterflies themselves.
Sarastro's realm was a land of machines and clockwork, as if to symbolize their worship of intellect and rationality, with the words "Wisdom," "Virtue," "Strength" and "Patience" written everywhere. The "March of the Priests" was a parade of mechanical animals, with a top hat-clad Sarastro riding a clockwork elephant, while the priests appeared sometimes as Edwardian gentlemen and sometimes as giant robot heads. This aesthetic culminated with the "Soll ich dich, Teuer" trio sung amid giant clocks, with an enormous swinging pendulum keeping the two lovers apart ("Die Stunde schlägt!"). As an appropriate contrast, images from nature expressed passion and grief; Pamina sang "Ach, ich fühl's" amid falling snow, and her suicide attempt took place on a storm-swept cliff with daggers raining from the sky. The trials by fire and water took place in the core of the earth (reached by elevator), where they consisted first of the lovers being held in the fist of a fire-breathing giant, then of an undersea voyage featuring seahorses, jellies and cuttlefish. Meanwhile, Papageno's wine-guzzling led to a Dumbo-inspired vision of pink elephants, and when he finally found his Papagena, a suburban house and (much to his comical horror) dozens of children materialized around them.
I won't pretend this was an ideal Magic Flute: far from it. Not that I care about the lack of Masonic symbolism (that's never been a priority for me; there's more to this opera than just Freemasonry), or about the non-Mozart music during the pantomimes, or even about the cuts (the two priests' duet was gone, as was the whole business of Papagena dressing as an old woman – instead she just randomly appeared, then vanished at the end of "Ein Mädchen"). But I have to agree, both with certain newspaper critics and with people who saw the production with me, that in this lavish film-and-cartoon world, the opera's human heart was diminished. Without question, the animation was the star of this production – the singers played second fiddle, particularly since most of their acting consisted of stylized pantomime. And sometimes the onslaught of creative visuals distracted from the music. It's hard to fully immerse in the Queen of the Night's coloratura while we're watching her shock Tamino with lightning or assault Pamina with swarming tarantulas. (Not to mention that Tamino seemed like an idiot to trust her, since she was a literal monster!) It was harder still to appreciate the gentle majesty of Sarastro's "O Isis und Osiris" while a pair of machines were washing and x-raying Tamino and Pamina, making the audience laugh in a moment Mozart obviously took seriously.
To tell the truth, all the scenes revolving around Sarastro and his clockwork kingdom fell slightly flat to me. Maybe that was intentional, though. I sensed that the creative team sided with neither the Queen nor Sarastro. According to the article in the program, they wanted to emphasize Tamino, Pamina and Papageno, and they considered the opera to be at heart about "the search for love," rather than, say, about enlightenment triumphing over ignorance. Sarastro was neither glorified nor even present in the final scene: only Tamino and Pamina were celebrated, with the flute-fairy flying joyfully overhead, love and music seeming to have triumphed both over the Queen's rage and over Sarastro's cold, mechanical reason. That interpretation (that both the Queen and Sarastro's world views are flawed and that Tamino and Pamina find a new and better way to live through their love) is neither new nor un-valid, especially considering the priests' less-than-enlightened stance on women… but does it completely gel with Mozart's music? Easy though it is based on the text alone to see Sarastro and co. as men of cold reason, the "voice of God" music they sing indicates warm, life-affirming wisdom! To me, in this production, that humane music clashed with the machine-world visuals.
But despite all misgivings, I have to say that I enjoyed the performance from beginning to end. The production was designed to dazzle, amuse, and bring dozens of fresh, clever new twists to a very familiar piece, and in all those areas it succeeded with flying colors. And the more I think it over, the whole concept of staging Flute in the style of a silent movie feels more and more fitting. In the first place, Flute is the quintessential fantasy opera, which makes it a natural choice for any kind of "cinematic" treatment. Secondly, the genres of both Singspiel and silent film were created as entertainment for the masses, full of spectacle, sometimes melodramatic and ridiculous by modern standards, but still entertaining and moving – and, of course, both genres rely heavily on music. And knowing Mozart's sense of humor, it's hard to imagine he would disapprove of seeing Monostatos sprout sexy can-can girls' legs when Papageno's bells enchant him, or anatomically-correct hearts floating through the air to represent the Three Ladies' "love" for Tamino!
The cast was a bit of a mixed bag, but excellent in general, and they held their own in a production that would have made lesser singers invisible.  The three highlights, in keeping with the directors' intent, were the three young leads. Lawrence Brownlee's tuxedo-clad Tamino was sung with a slightly gritty yet bright, warm, agile and always endearing tenor. The shining musical star, however, was Janai Brugger's Pamina – her warm, lightly smoky, rich yet pure lyric soprano effortlessly met the demands of Mozart's music and expressed all of the princess's love, grief and tenderness. As the Keaton-style Papageno, Rodion Pogossov sang with a smallish yet solid tan-colored baritone and made an endlessly lovable comic figure: an impressive feat, considering that the dialogue that's usually the character's lifeblood was gone and most of his comedy was relegated to wordless pantomime. Erika Miklósa, one of today's best-known interpreters of the Queen of the Night, sang with less ferocity than some of the great Queens of yesteryear and squeaked on a few of the top notes, but still offered appropriately glittering coloratura, and the audience loved her. Unfortunately, the weak link of the cast was Evan Boyer's Sarastro, underpowered and unmemorable – maybe a stronger singer would have made me appreciate the production's concept of the character more. Much more sumptuous-toned was Philip Addis's Speaker, despite the fact that he only sang from offstage, lending his voice to an animated robot head. Rodel Rossel provided delicious silent-film villainy as Monostatos, while Amanda Woodbury's sassy Papagena, an excellent trio of Ladies, a lovely if hushed-toned trio of Boys, two formidable "Armored" Men (in Edwardian suits) and a first-rate chorus provided ideal support for everyone. On the podium, James Conlon offered a slowish reading of the score (a few of the people I was with complained that the tempos dragged), but one with no shortage of warmth and beauty.
This was an afternoon at the opera that I won't soon forget. It was no substitute for a good traditional Magic Flute, but all the same, it infused Mozart's warhorse with nonstop laughs, thrills, imagination and fantasy. Of all the examples of Regietheater I've seen, this was one of the best. The rest of the audience seemed to agree with me, judging by the exuberant standing ovation at the curtain call. Wherever in the world this particular Flute is performed, I recommend that every Mozart lover waste no time in seeing it!
SaveSave