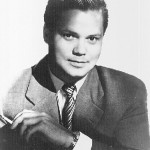 I remember the first time I ever heard Dietrich Fischer-Dieskau's voice. It was as Papageno in Karl Böhm's classic recording of The Magic Flute, which someone gave me for Christmas when I was fourteen. I remember being instantly struck by the sound of that bright, golden baritone.
A short while later, I discovered his 1967 recording of the title role in Gluck's Orfeo under the baton of Karl Richter. I listened to the sound clips offered on amazon.com, just because I was curious to hear the castrato role of Orfeo sung by a baritone. Instantly I was captivated by his rendition of the lament "Chiamo il mio ben cosí." Rich, warm, burnished, noble… the list of adjectives that describe his singing could go on and on! To hear that magnificent voice express the grief of Orpheus with such eloquence and dignity was an unforgettable experience.
It wasn't long before I'd heard him in a variety of roles: the Count in The Marriage of Figaro  (what singer ever sounded more naturally aristocratic?), Rodrigo in Don Carlo (to this day, I hear his and Carlo Bergonzi's voices when I think of that opera's tenor-baritone duet), the title role in Rigoletto (a controversial performance, as were all his Italian roles, but compelling all the same), and various others. Not to mention his forte, German Lieder. While I've never listened to that genre very much, I've heard enough to eternally associate it with him. On the recordings I heard in the music history classes I took, virtually every Lied written for a baritone was sung by him. I never even needed to hear his name: that ringing, golden sound was always unmistakable, whether in his melting rendition of "Die Lindenbaum," his gripping "Der Erlkönig," or his haunting "Der Leiermann."
Whenever I present the opera Hänsel und Gretel to elementary school classes, the recording I always use is the classic 1971 account conducted by Kurt Eichhorn, with an all-star cast including Anna Moffo, Helen Donath, Christa Ludwig… and Dietrich Fischer-Dieskau as the Father. The first time I ever gave that presentation, the fifth-grade class listened with interest but not much enthusiasm at first. But then, when Fischer-Dieskau made his musical "entrance" with his jolly "Ra la la la" song, they came to life. Suddenly they were swaying back and forth to the music, pretending to conduct in their seats, and for the rest of the hour I had my audience in the palm of my hand, thanks to him. To this day when I give that presentation, I look forward to the end of the opera, when he gloriously leads the women and children's chorus in pronouncing the moral of the story: Wenn die Not auks höchste steigt, Gott der Herr die Hand uns Reich ("When we cannot bear our grief, God the Lord will send relief").
I don't know whether opera is sung in Heaven or not, but if so, I'm sure that magnificent performances will be heard there soon. Perhaps Fischer-Dieskau will once again sing Papageno to Fritz Wunderlich's Tamino… or maybe his Don Giovanni will once again give orders to Walter Berry's Leporello, possibly with Schwarzkopf or Jurinac as Donna Elvira. But regardless of what he sings on high, I know that we were all amazingly blessed to have known him on earth. This is true, I'm sure, both for people who knew him personally (my heart goes out to his wife, soprano Julia Varady, and his children at this time) and for the thousands of people, like me, who were touched by his artistry. For me, Dietrich Fischer-Dieskau was, is, and always will be the quintessential voice of the German baritone repertoire and one of the most outstanding singers of the past century. Rest in peace, maestro, and thank you!
Music Clip I: Papageno's Act I aria from "The Magic Flute" (my first exposure to his voice)
Music Clip II: Schubert's "Der Lindenbaum" (a beautiful sample of Lieder)