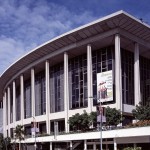 Cast
Don Giovanni: Ildebrando d'Arcangelo
Donna Anna: Julianna Di Giacomo
Donna Elvira: Soile Isokoski
Don Ottavio: Andrej Dunaev
Leporello: David Bizic
Zerlina: Roxana Constantinescu
Masetto: Joshua Bloom
Commendatore: Ievgen Orlov
Conductor: James Conlon
Production: Peter Stein
Director: Gregory A. Fortner
Set Designer: Ferdinand Wögerbauer
Costume Designer: Moidele Bickel
Lighting Designer: Duane Schuler
Choreographer: Peggy Hickey
Fight Choreographer: Ed Douglas
This Don Giovanni was the first final dress rehearsal I had ever seen of an opera. I had no idea what it would be like and I was a little nervous about seeing it. But still, nothing could stop me from going, because I was so eager to see the production itself. Ever since the nonsensical puppet show that was the Walt Disney Concert Hall Don Giovanni last May, I'd been dying to see a decent traditional Giovanni again. Besides, this performance would be my first live encounter with star bass-baritone Ildebrando d'Arcangelo. I couldn't wait to see and hear him.
As it turned out, I needn't have worried about the "rehearsal" aspect of the evening. Despite an ominous announcement at the beginning (that the singers might not elect to sing in full voice, that the performance might be interrupted, etc) the opera played out more-or-less exactly like it would in an official performance. The auditorium was full and the singers put forward all their talent. I only noticed a few kinks that I assume will be gone by opening night. An occasional flubbed line, curtains that wouldn't fully close even as Donna Elvira was singing in front of them, and a none-too-smooth effect of the stage floor "growing back together" after it opened for Don Giovanni's plunge into Hell (the mechanism went "CLUNK! CLUNK!" as Don Ottavio was singing, and moments later Zerlina and Masetto tripped on an uneven spot). But otherwise, the only hint that this wasn't a "real" performance was the lack of a souvenir stand in the lobby.
The production, on loan from the Lyric Opera of Chicago, was blessedly traditional, just like I hoped it would be. Not so much in terms of scenery – apart from a lavishly realistic cemetery in Act II (possibly to emphasize the sudden dramatic turn of events in that scene) the sets were minimalistic, mostly consisting of plain wooden floors and walls. But the costumes were handsome 18th century garb and the stage action was straightforward and true to Da Ponte. Even the Don's descent into Hell, always a vehicle for oft-misguided creativity, was given an old-fashioned yet effective staging that might have been seen in Mozart's Vienna, with a massive trapdoor, rising fabric "flames" and demonic hands reaching up from below. In addition, the staging was laced from start to finish with unabashed old-school theatricality. Lively music was accompanied by dancing whether it was realistic for the situation or not, and the characters often sang directly to the audience, not in a "grandstanding opera singer" way but in a "conscious breaking of the fourth wall" way.
I suspect that plenty of nose-holding critics will lambast the production with cries of "dull," "corny," "park-and-bark," etc. But to me, it wasn't dull in the least (though it was a little corny now and then). The singers were lively, the action was clear and concise, and the story lived and breathed. A particular source of liveliness was the fact that the directors unashamedly presented the opera as a comedy. This was the funniest, sunniest Giovanni I've ever seen, with humor that wouldn't feel out of place in The Marriage of Figaro or The Barber of Seville: the Don sniffing Leporello's armpit before realizing that the scent in the air was "l'odor di femmina," the classic Catalogue Aria gag with the long unfolding page from the book, Zerlina pretending to cry during "Batti, batti" and dabbing her eyes with a hankie in time to the music, and more. Instead of a drama with comic relief bits, this Giovanni was an opera buffa with "serious relief" bits… and it worked. I'm sure the critics will cry "cheap laughs," but the audience loved it, the opera's innately dark scenes lost none of their power, and after all, Mozart himself described the work as an opera buffa. Would he be happy, I wonder, if he knew how many modern productions try to make it bleak and disturbing?
For all the production's good qualities, though, it would have been nothing without a strong ensemble of performers.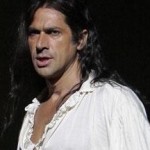 Ildebrando d'Arcangelo's Don Giovanni was magnificent; he lived up to my every hope and expectation. With his dark, handsome figure and luxurious bass baritone he was a fully believable seducer of women. Furthermore, he carried himself with perfect aristocratic dignity (except while disguised as Leporello – then he hilariously skipped and lumbered around the stage imitating his servant's peasant gait) and offered a first-class portrayal of a completely ruthless yet somehow eternally likeable cad.
At his side, David Bizic was a classic Leporello; rich-voiced, lively, disgruntled and funny from beginning to end, if a tiny bit hammy. Julianna Di Giacomo was a fittingly anguished Donna Anna with a sweet yet rich soprano, though her coloratura failed to sparkle in "Non mi dir." It was never made clear whether her Anna loved Ottavio or Giovanni: my impression was that she was torn between the two men. Her devoted Ottavio, Andrej Dunaev, was an appropriately dignified presence with a robust yet agile, honeyed tenor. Soile Isokoski was a solid older-woman Elvira, appropriately spiteful in Act I and distraught in Act II without ever becoming "the heart of the opera," as critics love to call the character. She sang with a beautifully delicate, pure voice, though.
The best of the women was Roxana Constantinescu as Zerlina, a vivid (if, once again, sometimes hammy) presence with a sweetly warm, fruity mezzo voice. In keeping with her timbre, she played a sensual, cunning, almost Musetta-like Zerlina, rather than the "innocent led astray" that light soprano Zerlinas tend to be. Joshua Bloom was a good, solid Masetto and Ievgen Orlov was a sumptuous, thunderous-toned Commendatore. James Conlon conducted with both energy and refinement, thou as usual at live opera performances, I was too absorbed in the singers to remember many specifics of his interpretation. I give him credit for one thing, though: he managed to take "Fin ch'han dal  vino" at a brisk tempo, yet without making Giovanni struggle for breath or turning his diction to mush! Not every conductor achieves that!
Was this the definitive Don Giovanni? No it wasn't: I don't think a definitive Don Giovanni has ever been done or ever will be, the work has too many dimensions to be mined. But it was a very enjoyable Giovanni, full of life and excellent performances, and I'm sure the production will only improve over the course of its run. It was more or less everything I hoped it would be and a wonderful start to my 2012/13 opera-going season.