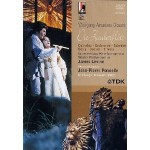 Die Zauberflöte
1982, Salzburg Festival
(Peter Schreier, Ileana Cotrubas, Christian Boesch, Edita Gruberova, Martti Talvela, Horst Heistermann; Wiener Staatsopernchor; Wiener Philharmoniker, cond. James Levine)
(dir. Jean-Pierre Ponnelle; video dir. Brian Large)
The ever-quirky yet ever-insightful Jean-Pierre Ponnelle presents his Flute very much as an Enlightenment allegory. The costumes are 18th century dress, in Ponnelle's usual elegantly subdued color scheme. The Queen of the Night and her Ladies, with their extravagant gowns and highly dramatic stage presences, seem to personify the excesses of the Baroque period, while Sarastro and his priests, in their stark black and white garb, personify the rational Neoclassical era. Meanwhile, Papageno, whose roots are in Viennese theatre, dwells on a mini-stage and catches birds by cutting them down from strings with scissors. Performed in the open-air Felsenreitschule theatre on a pretty, naturalistic unit set – which admittedly works less well in some scenes than in others – this Flute manages to be inventive throughout, yet generally traditional enough for Mozart purists.
Peter Schreier's Tamino lacks the sheer vocal beauty of others, but he sings with strength and lyricism and cuts a noble figure, while the delicate, dramatically sensitive Ileana Cotrubas is a sweet-voiced, charming and touching Pamina. However, the true star of the performance is Christian Boesch's vibrant, multifaceted Papageno: youthful, vocally charming, feisty yet vulnerable, an excellent physical comedian, and effortless at combining infectious peasant-like cheer with moments of touching pathos. As the opera's two grand opposing forces, Edita Gruberova is a truly star-blazing Queen with glittering, silvery coloratura, while Martti Talvela is an appropriately towering, majestic voiced Sarastro. Horst Heistermann is an exuberant caricature of a Monostatos (as far as possible from politically correct), and the supporting cast, which luxuriously includes Walter Berry as the Speaker, Edda Moser as the 1st Lady and Anne Murray as the 2nd, is excellent all around. James Levine, in one of his few filmed appearances outside of the Met, conducts with a lithe, skillful hand. Brian Large's camerawork is mostly fine, though I'd prefer more intimacy and fewer wide shots of the stage.
This isn't the only good Flute available, but with its starry cast, creative staging, and array of musical and visual charms, it still stands out in the catalogue. In my opinion it's a must-see for true Mozart devotees.