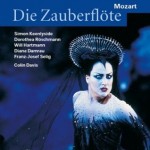 Die Zauberflöte
2003, Royal Opera House, Covent Garden
(Will Hartmann, Dorothea Röschmann, Simon Keenlyside, Diana Damrau, Franz-Joseph Selig, Adrian Thompson; Chorus of the Royal Opera House, Covent Garden; Orchestra of the Royal Opera House, Covent Garden, cond. Colin Davis)
(dir. David McVicar; video dir. Sue Judd)
Anyone expecting a charming fairy-tale Magic Flute with lavish, colorful scenery will be taken aback by this unconventional production. The fantasy world of this Flute is a dark, mystical one with an almost minimalist aesthetic. Somber, vaguely 18th century set pieces slide almost imperceptibly onto and off of the darkly lit, often misty stage. The characters likewise wear 18th century garb, except for the Queen of the Night and her Ladies, with their lavish, otherworldly black gowns, and Papageno, Papagena and the three Boys, who wear modern dress. The influence of Ingmar Bergman's film is strong throughout, particularly in the staging of the trials by fire and water, but the production's overall tone is very different. While Bergman's Flute, for all its depth, is still a traditionally enchanting fairy-tale, this Flute is shrouded by night, which only the final scene, with its giant sun and children that gather around Tamino and Pamina, drives away at last.
Will Hartmann is an engaging Tamino with a warm, coppery tenor. His Pamina, Dorothea Röschmann, meanwhile, is easily one of the greatest Paminas ever seen on film. Not only does she sing with a sumptuous lyric soprano, she offers a vibrant portrayal of the princess, both tender and strong, with all her emotions richly realized. Simon Keenlyside is an unusual Papageno; instead of a cheerful, broadly comic innocent, he portrays a scraggly, earthy working-class man whose humor is subtle, with a strong hint of pathos. It's a different characterization, but Keenlyside handles it endearingly and with an excellent voice. Diana Damrau, meanwhile, is a towering Queen of the Night, sinisterly beautiful, manic and larger-than-life in her rage, with a stunning crystalline coloratura soprano. As her foil, Franz-Joseph Selig may lack the vocal power of some Sarastros, but his bass is warm and rich, and he offers a first-rate characterization, benevolent and wise yet human. Adrian Thompson's grotesque Monostatos (very fat and pale rather than black), Thomas Allen's sage-like Speaker, and strong trios of both Ladies and Boys complete the excellent cast, while Sir Colin Davis conducts with the same Mozartian expertise which graced his beloved 1984 studio recording of the opera. The performance is filmed in high definition, with flawless camerawork.
This darker and edgier Flute won't suit all tastes, but still, it's high on my list of recommendations. The production is unusual, but wonderfully performed, excellently thought-out, and a worthwhile choice for any Mozart lover.