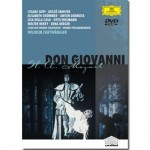 Don Giovanni
1954, Salzburg Festival
(Cesare Siepi, Otto Edelmann, Elisabeth Grümmer, Anton Dermota, Lisa della Casa, Erna Berger, Walter Berry, Deszö Ernster; Wiener Staatsopernchor; Wiener Philharmoniker, cond. Wilhelm Furtwängler)
(dir. Herbert Graf; film dir. Paul Czinner)
This Don Giovanni was filmed in Salzburg's open-air Felsenreitschule theatre as part of director Paul Czinner's movement to preserve renowned theatre performances for posterity. Performed on an elegant unit set (convincing as either a town square or a courtyard) with Herbert Graf's intelligent staging and a cast of vintage Viennese gold, in mono sound, this production is a quintessential Giovanni of its time and place. The costumes are traditional 1600s garb, German accents abound with constant 'qvi's and 'qva's instead of 'qui's and 'qua's, the acting is very broad, and characterizations are traditional and straightforward. Don Giovanni is a suave, cheerfully cruel swashbuckler, while Leporello is the Sancho Panza-like comic relief. Donna Anna and Don Ottavio are the noble, tender principle couple (no doubt is cast on either their love or their virtue), while Zerlina and Masetto are the bickering yet cute comic couple. Donna Elvira is purely tragic. The Commendatore's statue is played by the singer in white armor and makeup (no quirky alternative here), and the Don is dragged to Hell the old-fashioned way, by a horde of demons amid fire and smoke. More can certainly be done with both the characters and the staging of this opera, but this old-fashioned Giovanni still offers plenty of pleasure.
Cesare Siepi, possibly the 20th century's most legendary Don, lives up to his grand reputation. Tall, dark, handsome, athletic and elegant, with a voice like a river of black velvet, he inhabits the role as if he were born for it. As Leporello, Otto Edelmann is a chronic mugger, but he sings well enough and makes an effective foil for Siepi. Elisabeth Grümmer is an impassioned, sweet-voiced Donna Anna, excellently matched by Anton Dermota's golden-voiced Don Ottavio, though neither quite has the physique du role. It's refreshing to see a production where, for once, the two aristocratic lovers seem truly, fully devoted to each other. Lisa della Casa is a vocally lightweight Donna Elvira, but one with a lovely timbre and a lovely stage presence, who expertly captures the character's range of emotions while always maintaining her dignity. Erna Berger, 54 years old but still with a delicate, girlish voice, is a charming if doll-like Zerlina, well matched in every way but age by 25-year-old Walter Berry's boyish, robust and forthright Masetto. Last and (admittedly) least, Deszö Ernster is a solid Commendatore. Wilhelm Furtwängler, months before his death, conducts with fluidity and gravitas, in a performance very slow and heavy by modern standards, but compelling throughout. "Dalla sua pace" is cut, presumably to keep the running time reasonably short for 1950s moviegoers.
This Giovanni is dated, without a doubt, but still a must-see for lovers of the opera, both as a historical document of a vintage, all-star production and simply as an excellent way to experience Mozart's masterpiece.