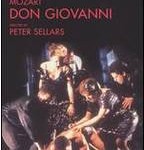 Don Giovanni
1990, Decca Record Co.
(Eugene Perry, Herbert Perry, Dominique Labelle, Carroll Freeman, Lorraine Hunt, Ai Lan Zhu, Elmore James, James Patterson; Arnold-Schönberg-Chor; Wiener Symphoniker, cond. Craig Smith)
(dir. Peter Sellars)
This modern-dress studio production is "not your parents' Don Giovanni" – the very opening shots, depicting a real New York slum full of rundown buildings, dead rats and garbage-covered snow, make that clear. Set in the South Bronx, this Giovanni strips the characters of their social statuses, keeps humor to the barest minimum, and brings forth loudly and clearly all the darkness that normally only simmers below the opera's surface. Anna is an obvious rape victim who turns to heroin to escape from her trauma. Masetto does indeed beat Zerlina. And Giovanni and Leporello, innately "not so different," are here portrayed as identical African American twins – a nearly interchangeable pair of streetwise, leather-clad, coke-snorting, gun-wielding hoods. Ensembles are staged as interpretive dances, and the finale is a hodgepodge of surreal horror, with a green-faced Commendatore, a somber little girl who lures pedophile Giovanni toward his doom, and bare-chested "demons," both male and female, rising from the pavement.
I can't say I love such a grungy, brutal vision of Mozart's dramma giocoso, but I must admit, it works. The gritty visuals may clash with the elegant music, but director Sellars manages to convince me (a) that the ugliness he depicts lies innately within the libretto, all he does is make it more overt, and (b) that apart from the supernatural ending, everything in the opera could easily happen, and probably does all too often, in the ghettos of today.
Eugene Perry's Giovanni is an appropriately magnetic presence. Handsome and athletic, with a rich, dusky baritone, he strikes an ideal balance between suaveness, menace, and what one review I've read aptly calls "quiet power." His brother Herbert Perry displays a heavier yet equally handsome voice and equal magnetism as a smooth-talking, serious Leporello. The two have predictably excellent chemistry. Dominique Labelle is a strong, sweet- if light-voiced Anna, conveying her agony clearly yet subtly. Her Ottavio, Carroll Freeman, sings with a sweet yet thin, dryish tenor, but his acting is compelling: this Ottavio is a passionate, anguished character whose world is shattered as his friendship with Giovanni and romance with Anna both fall apart. Meanwhile, Lorraine Hunt is easily one of the greatest Elviras in any filmed Giovanni, traditional or non-. Her light, creamy mezzo is lovely and she performs with outstanding passion, infusing a potentially silly concept of the character (a sleazily-dressed yet Bible-thumping, knife-wielding near-hysteric) with true pathos. Ai Lan Zhu is an adequate Zerlina, with a warm, purring soprano, though her acting is fairly bland – Sellars seems to view the character as a weak victim who only grows a spine after her near-rape. She's well matched by Elmore James's solid, brutish yet vaguely sympathetic Masetto. Finally, James Patterson is a thunderous if not quite chilling Commendatore. Craig Smith conducts most of the score with moderately paced elegance, but handles the recitatives more freely, with wildly varying tempos for dramatic effect. Incidentally, this is one of the few filmed Giovannis to include Leporello and Zerlina's "razor" duet – played for shock value instead of laughs. Sellars's camera direction is full of intense close-ups and odd angles that enhance the disturbing atmosphere, while the subtitles are a slangy "modern" rendition of the text.
Depending on your personal taste, this "ghetto" Giovanni is either disgusting, illuminating, or a little bit of both. But one thing is certain: it isn't boring. I'd never call it definitive, but all the same, I have to recommend it.
Production Clip: "Ah, chi mi dice mai" and the Catalogue Aria
SaveSave