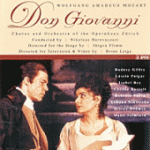 Don Giovanni
2001, Zürich Opera House
(Rodney Gilfry, László Polgár, Isabel Rey, Roberto Saccá, Cecilia Bartoli, Liliana Nikiteanu, Oliver Widmer, Matti Salminen; Chor der Oper Zürich; Orchester der Oper Zürich, cond. Nikolaus Harnoncourt)
(dir. Jürgen Flimm; video dir. Brian Large)
With its star-studded cast and renowned conductor, this Giovanni has the makings of a near-definitive performance. Unfortunately the production is a strange, awkward blend of the traditional and the avant-garde. The darkly lit, minimalist set consists of a more-or-less bare stage in Act I and a scaffold-like structure in Act II. The costumes evoke a mix of periods, with the aristocrats generally in 18th century dress, the peasants in 19th century dress, and occasional modern touches (e.g. a ski cap
 for Leporello, a cardigan for Zerlina). The Commendatore's statue is a giant block of stone with half a face carved out of it, and only appears in the "cemetery." The ghost that comes to dinner simply looks like the living Commendatore. In the end, Don Giovanni plummets into a pit of fire that springs up from his own dinner table, only to reappear during the final ensemble, wearing a tuxedo and seducing a woman beside a car: for better or worse, director Flimm seems to say, men like the Don will exist forever. But odd though the production is, at least it isn't intrusively odd. The singers aren't made to do anything too ridiculous and still have plenty of room to give fine performances.
Rodney Gilfry is an ideal Don Giovanni. His tall, handsome figure and light, buttery baritone seem tailor-made for the role, and his stage presence is fantastic, striking a perfect balance between smooth, aristocratic elegance and fiery, compulsive hedonism. Equally memorable is László Polgár's Leporello. His scraggly appearance and deep, dark bass contrast well with Gilfry and, with understated humor, he creates a vivid, complex character, disgusted by his master's exploits yet living vicariously through them. Isabel Rey is an effectively distressed Donna Anna, with a pure and sweet if slightly thin soprano. (Her feelings about Giovanni are left a bit unclear.) The true leading lady, however, is Cecila Bartoli's blazing Donna Elvira. Apart from characteristic facial tics and jerky movements, the superstar mezzo offers a stellar characterization, enhanced by her earthy yet florid singing: fierce yet anguished, enraged yet lovesick, wildly passionate yet not without dignity. As Don Ottavio, Roberto Saccá sings with a slightly salty, brazen timbre, but his tone suits his characterization – no simpering lover boy, but a strong, manly anchor for Donna Anna. Liliana Nikiteanu, meanwhile, is a pretty, charming and vivid Zerlina with a sweet, plummy mezzo voice. Oliver Widmer is a solid Masetto, but Flimm's staging reduces the character to a buffoon. Matti Salminen's thunderous Commendatore rounds out the cast. Nikolaus Harnoncourt puts a highly unique stamp on the score, employing all sorts of creative tempos and shadings, unusual but nearly always effective. Camerawork, sound and picture are excellent, as are the subtitles apart from a few quibbles (Donna Anna is Don Ottavio's fiancée, not his "girlfriend").
Despite my mixed feelings about the production, the first-class work of the singers and Harnoncourt make this Giovanni rank high on my recommendation list. Flawed though it is, any Mozart lover should find something in it to enjoy.
Production Clip: "Ah, taci, ingiusto core" (Bartoli, Polgár, Gilfry)