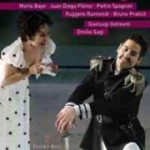 Il Barbiere di Siviglia
2005, Teatro Real, Madrid
(Pietro Spagnoli, Maria Bayo, Juan Diego Flórez, Bruno Praticó Ruggero Raimondi, Susanna Cordón; Coro de la Comunidad de Madrid; Orquestra Titular del Teatro Real, cond. Gianluigi Gelmetti)
(dir. Emilio Sagi; video dir. Ángel Luis Ramirez)
This Barbiere has quickly become one of the most popular and easiest to find. When I first saw it, I was caught off guard by its unusual atmosphere, but since then I've come to appreciate it as a production filled with talent and creativity. Both sets and costumes are entirely in black and white for most of the opera, but as the happy ending draws near and rebellion triumphs over the old social order that Bartolo represents, bright colors finally appear and take over. The sets, which are moved by costumed stagehands a la Brecht and kabuki, have a grand 18th century look, while the costumes combine styles of various periods. Much of the staging relies on surrealistic humor: in the Act I finale, the characters express their confusion by folding origami birds and "flying" them, and later, the "Buona sera" quintet sees Don Basilio tied up and forced to hop offstage. Meanwhile, every scene is populated with townspeople who mull around, dance sevillanas, and above all, eavesdrop. Some viewers may find this distracting, but it enhances the opera's lively atmosphere and sense of constant intrigue. Though the question remains why a guardian as jealous as Bartolo would allow so many people free rein of his house.
At any rate, the cast is strong. The production's true star and money-magnet is, of course, Juan Diego Flórez as Count Almaviva. The superstar tenor gives a sterling performance with his boyish good looks, energy, humor, crystalline timbre and sparkling coloratura. But he isn't the only appealing presence. Pietro Spagnoli, looking a bit like Groucho Marx but with a thinner moustache, is a first-rate Figaro, with a sweet yet vigorous baritone and plenty of charisma. Maria Bayo is a competent Rosina, with a delicate, pretty soprano and the necessary lively charm: the optional Act II aria "Ah, se é ver," is included for her, as is "Cessa di piú resistere" for Floréz. Bruno Praticó brings a slightly gruff, sour bass to Bartolo, but his voice suits the old curmudgeon's character and he makes an endearing comic blowhard. Rounding out the principles is Ruggero Raimondi, who sings Basilio with a sumptuous tone and acts the part of the slander-lusting disperato to perfection. Gianluigi Gelmetti conducts with expert Rossinian style.
This Barbiere may be too unconventional to be an ideal introduction to the work, but still, between the singers' excellent performances and the inventive visuals, it has charm to spare. I highly recommend it.
Production Clip: A trailer with excerpts from various scenes