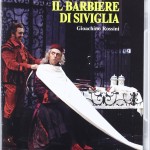 Il Barbiere di Siviglia
2005, Teatri Regio di Parma
(Leo Nucci, Anna Bonitatibus, Raul Giménez, Alfonso Antoniozzi, Riccardo Zanellato, Gabriella Corsaro; Coro del Teatro Regio di Parma; Orchestra del Teatro Regio di Parma, cond. Maurizio Barbacini)
(dir. Beppe De Tomasi; video dir. Andrea Bevilacqua)
This Barbiere is an obscure one, and to be honest, I don't regret that fact. Plenty of stronger versions are available. That said, this is still a decent performance with several outstanding elements. The production is a simple yet solid minimalist affair: a unit set seemingly made entirely of black Spanish lace, against which the singers play out the comedy in traditional 18th century garb. The staging involves a few surreal gags (e.g. a giant scroll of sheet music which the chorus holds up during "Ecco, ridente," Barolo sleepwalking and sleep-conducting during "Contro un cor"), but for the most part this performance belongs to the performers, without the director or the visual designers ever stealing their thunder.
My main caveat involves the singers' appearances. The production's two star names, 63-year-old Leo Nucci as Figaro and 55-year-old Raul Giménez as the Count, are twice their characters' ages and look it, while the "elderly" Bartolo, Basilio and Berta all look half the ages they should. But still, they're a winning crew. Nucci may not be a "giovinotto," but his Figaro still shines, with smiling, witty charm and a warm, rich sound. (And though I don't care much for encores, I have to applaud him for singing "Largo al factotum" twice with unflagging stamina!) Likewise, Giménez's Count is still sung with all the mellow sweetness and agility of his career's earlier days, and is a dignified presence, if less funny than others. The most flawless of the principles, however, is the Rosina of Anna Bonitatibius. She looks the part, sings with a sumptuous mezzo voice, and makes the Count's inamorata into a wonderfully feisty, down-to-earth character. The cast's weak link, on the other hand, is Alfonso Antoniozzi's Bartolo. His voice, patter skills and acting are all fine, but the undisguised fact that he's a handsome young man detracts from everything Bartolo is supposed to be. Riccardo Zanellato, though also on the young side, fares better as a solid, rich-toned Basilio. Maurizio Barbacini conducts with all the necessary Rossinian charm and vigor. (His brother, tenor Paolo Barbacini, who sang the Count on Riccardo Chailly's popular 1982 Barbiere recording with Nucci's Figaro and Marilyn Horne's Rosina, here not only portrays the Count's servant Fiorello, but takes the podium to conduct the aria he once sang, "Ecco, ridente.")
I wouldn't call this Barbiere essential, but all the same, it's good qualities raise it above the "for completists only" file. My recommendation is this: don't make it your first choice, but if you happen to find it, then add it to your collection. 
Production Clip: "Largo al factotum"
SaveSave