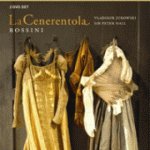 La Cenerentola
2005, Glyndebourne Festival Opera
(Ruxandra Donose, Maxim Mironov, Luciano di Pasquale, Simone Alberghini, Nathan Berg, Raquela Sheeran, Lucia Chirillo; Glyndebourne Chorus; London Philharmonic Orchestra, cond. Vladimir Jurowski)
(dir. Peter Hall; video dir. Robin Lough)
This second Glyndebourne Cenerentola DVD couldn't be more different from the first: the atmosphere of Sir Peter Hall's production is worlds away from the storybook charm of John Cox's 1983 staging. While the Regency-era setting is traditional, its look and feel is characterized by stark, gritty realism. Don Magnifico's mansion is truly shabby, the royal palace is elegant yet austere, and the color scheme consists mainly of earth tones, with only the men of the court in bright colored satins. Slapstick among the comic characters is kept to a bare minimum, and during every ensemble of mass confusion, the stage goes dark, leaving only the singers illuminated eerily. This production takes the concept of a non fairy-tale "Cinderella" to its extreme. While still a comedy, this Cenerentola isn't the usual pretty cream puff, but a hard-edged, unsentimental satire.
Not only is the production unusually hard-edged, so is its heroine. Ruxandra Donose's Cenerentola is a strong young woman who, while virtuous, is often angry, occasionally sarcastic, and never afraid to speak her mind – far removed from the traditional sweet ingénue. This not-so-innocent characterization may not suit all tastes, but Donose presents it vividly, with a warm, velvety and agile mezzo. Her supporting cast is likewise strong. Maxim Mironov is a slightly effeminate-looking yet charming Ramiro, with a bright, youthful voice, while Luciano di Pasquale is a natural-born, show-stealing Don Magnifico: an expert basso buffo singer, and both funny and repulsive as a bloated lowlife who sees himself as an aristocrat. Simone Alberghini is a subdued yet charming, witty and rich-voiced Dandini, while Raqeula Sheeran and Lucia Chirillo make a first-rate pair of obnoxious stepsisters. Nathan Berg is a strong-voiced yet unusual Alidoro: rather than the usual fatherly figure, this production makes the cunning tutor slightly sinister in his chess-master role. Vladimir Jurowski leads the London Philharmonic in a lively, flavorful reading of the score, enhanced by witty continuo provided by fortepiano, cello and bass.
This Cenerentola will never be my personal favorite, but for anyone who, like Sir Peter Hall, finds most productions too fairy-tale-like, this grittier, more sober version will probably be a breath of fresh air, especially with such a strong cast. I highly recommend it for any longtime Rossini lover.