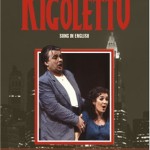 Rigoletto
1982, English National Opera
(John Rawnsley, Arthur Davies, Marie McLaughlin, John Tomlinson, Jean Rigby, Sean Rea; English National Opera Chorus; English National Opera Orchestra, cond. Mark Elder)
(dir. Jonathan Miller; video dir. John Michael Phillips)
Jonathan Miller's famous ENO Rigoletto, while hardly radical by today's standards, is still a bit of a "love it or hate it" production. Sung in James Fenton's blunt, unflowery English translation, it transfers the action to 1950s New York City, where Rigoletto is a bartender in a swanky hotel and "the Duke" and his "courtiers" are Mafiosi. Gilda's seduction takes place in a slum, while Sparafucile haunts a run-down inner city bar with a jukebox that plays "La donna é mobile." Accusations of "coarseness" and "loss of stature" are easy to make, and I must admit, the concept is weakened by the singers' obvious British accents. But still, in my opinion, it works, chiefly because it refuses to be melodramatic. Unlike many "traditional" productions, this Rigoletto is firmly set in the real world, and apart from inevitable conductor-watching, the characters' interactions are almost as believably subtle as they would be in a movie. This very subtlety, combined with the 20th century setting, arguably enhances the brutality of the tragedy, because the action neither takes place in a safely distant past nor ever feels too horrific to be true.
John Rawnsley's Rigoletto is unforgettable. His chubby, limping, "sad sack" figure belies the luxurious dignity of his powerful baritone, which he applies to Verdi's music with tremendous passion. True, his passion doesn't always equal perfect acting (he's more convincing in grief than in rage, and even then, some of his tortured expressions are unintentionally comical), but still he's a vivid, involving presence, both as a clowning yet bitter flunky and as an adoring, agonized father. The rest of the cast is slightly more generic than he is, but a strong ensemble. Arthur Davies is a suave Duke with a warm, handsome lyric tenor, though he lacks the irresistible charisma that the role cries out for. Marie McLaughlin is a winning Gilda, believable both in innocent charm and in anguish, her caressing lyric soprano weightier than usual for the role yet still lovely. John Tomlinson's sleazy Sparafucile and Jean Rigby's sultry yet human Maddalena are both flawlessly sung and acted, while Sean Rea is both physically and vocally an imposing Monterone. Mark Elder conducts a slow-paced yet solid reading of the score that provides strong support for the singers. Unfortunately, the mediocre sound quality of the DVD transfer is notorious – for that reason, I recommend looking for a VHS copy instead, though the tradeoff in that case is fuzzier picture quality.
This Rigoletto will hardly appeal to everyone, but still I recommend it at least for one viewing. Jonathan Miller's concept may be "love it or hate it," but the execution of it, in my opinion, is very engaging.
Production Clip: The whole thing (I can't believe it – no short clips on Youtube, only the whole darn thing!)