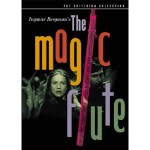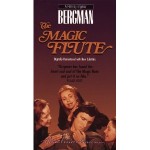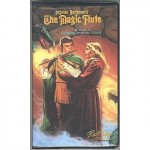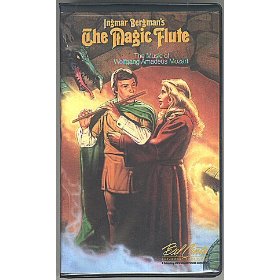 Trollflöjten (The Magic Flute)           
1975, Sveriges Radio
(Josef Köstlinger, Irma Urrila, Håkan Hagegård, Birgit Nordin, Ulrik Cold, Ragnar Ulfung; Swedish Radio Chorus; Swedish Radio Orchestra, cond. Eric Ericson)
(dir. Ingmar Bergman)
Ingmar Bergman's classic Swedish-language adaptation of The Magic Flute is widely and rightfully considered one of the greatest examples, if not the greatest example of opera on film. Rather than present this most stagy and fantastical of operas as "real," Bergman frames the film as a stage performance at Sweden's historic Drottningholm Court Theatre, from the viewpoint of a little girl in the audience to whom the camera constantly returns. Throughout Act I the opera's pastel-colored fairy-tale setting (entirely Old World European – the original libretto's hints of ancient Egypt are cut) is clearly wing-and-drop scenery and the singers are occasionally shown watching each other from backstage. But when our heroes enter Sarastro's domain and the story's entire direction changes, so does the film's appearance, and we're given realistic scenery and effects not possible in a real stage performance. Meanwhile, Bergman masterfully evokes every quality that Flute can be said to contain: romance, humor, philosophy, fairy-tale beauty, folksy charm, dark mysticism and sacred solemnity. Most Flute productions are dominated by just one of these qualities – which one depends on the director, set designer, etc. – but this film, like Mozart's music, contains them all. In my opinion this multilayered atmosphere is what makes the film outstanding.
The Swedish translation generally hews close to the original German text, but a handful of musical numbers are cut or reordered, especially in Act II. Papageno's second aria is sung at an earlier point than usual, his two meetings with the "old woman" are reduced to one, his suicide attempt comes directly after Pamina's rather than in its traditional place, and the Tamino-Pamina-Sarastro trio is eliminated. The dialogue is heavily cut and slightly rewritten as well, most importantly by incorporating the famous, much-discussed Act II revelation, nowhere to be found in Schikaneder's original text, that Sarastro is Pamina's father.
The cast is mostly unknown, at least outside of Scandinavia, but all are fine singers and even better actors. Josef Köstlinger is a strapping Tamino who sings with a slightly thick yet warm, rich tone and strikes the perfect balance between princely courage and gentle humanity. Irma Urrila, while vocally not quite on the same level, is a sweet, tender Pamina who compliments him well. Birgit Nordin's Queen of the Night lacks the tonal beauty and legato of others, but still she manages the role's fiendish coloratura and cuts a striking figure as a regal, icy villainess. Ulrik Cold, meanwhile, is an appropriately rich-voiced, wise and humane Sarastro, though even with gray hair and a beard he looks young for the role. The film's true highlight, however, is Håkan Hagegård's hilarious, touching and adorable Papageno, who sings with a first-class lyric baritone and steals every scene he appears in. The rest of the cast is uniformally strong, with three charming Ladies, three adorable Boys and an endearingly human bevy of priests, while Eric Ericson leads the Swedish Radio Orchestra in a first-rate reading of the score.
Due to the liberties it takes with the score and text, I wouldn't call Trollflöjten an ideal introduction to The Magic Flute, but it's definitely a must-see for lovers of Mozart's final masterpiece. Its creativity, richly varying atmosphere, and perfect combination of fairy-tale charm and genuine depth make it worthy of its status as possibly the world's most revered opera film.
Production Clip: Papageno's "hanging" scene/the "Pa pa pa" duet