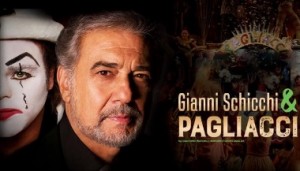 Cast (Gianni Schicchi)
Gianni Schicchi: Plácido Domingo
Lauretta: Andriana Chuchman
Zita: Meredith Arwady
Rinuccio: Arturo Chacón-Cruz
Gherardo: Greg Fedderly
Nella: Stacey Tappan
Simone: Craig Colclough
Betto di Signa: Philip Cokorinos
Marco: Liam Bonner
La Ciesca: Peabody Southwell
Maestro Spinelloccio: E. Scott Levin
Ser Amantio di Nicolao: Kihun Yoon
Gherardino: Isaiah Morgan
Pinellino: Daniel Armstrong
Guccio: Gabriel Vamvulescu
Conductor: Grant Gershon
Director: Kathleen Smith Belcher, after Woody Allen
Set and Costume Designer: Santo Loquasto
Lighting Designer: York Kennedy
Cast (Pagliacci)
Canio: Marco Berti
Nedda: Ana Maria Martinez
Tonio: George Gagnidze
Silvio: Liam Bonner
Beppe: Brenton Ryan
First Man: Arnold Geis
Second Man: Steven Pence
Conductor: Plácido Domingo
Director: Stefano Trespidi, after Franco Zeffirelli
Set Designer: Franco Zeffirelli
Costume Designer: Raimonda Gaetani
Lighting Designer: York Kennedy
LA Opera's 30th Anniversary Season has opened with a double bill that celebrates the company's history of collaboration with Hollywood. The two productions, both revivals, are the work of legendary film directors: Gianni Schicchi, which premiered in 2008 as part of a complete Il Trittico, was staged by Woody Allen, and Pagliacci, which premiered in 1996, by Franco Zeffirelli.
These two short operas are rarely paired together, but as with last season's Dido & Aeneas/Bluebeard's Castle double bill, the pairing is surprisingly fitting. Both are turn-of-the-20th century Italian operas composed in the sumptuous, syrupy, passion-bleeding musical style of the verismo genre. Gianni Schicchi is a classic comedy, while Pagliacci is a tragic deconstruction of a comedy. Both involve the themes of costume and performance. Both end with spoken words addressed directly to the audience. Both take a dismal view of human nature (Schicchi cheerfully, Pagliacci not so cheerfully), Pagliacci depicting unbridled jealousy, lust, adultery and revenge while Schicchi depicts unbridled greed and dishonesty. Yet both encourage sympathy for their less-than-heroic protagonists, Schicchi and Canio. In this particular double bill, the two works were also united by the presence of Plácido Domingo, who expanded his new baritone repertoire further with the title role in Schicchi, then traded stage for podium to conduct Pagliacci.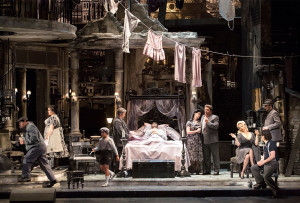 Woody Allen's Schicchi was an unabashedly zany tribute to vintage neo-realist Italian film. It opened not with Puccini's orchestral introduction, but with an accordion rendition of "Funiculí, funiculá," while a screen hanging in front of a black curtain showed us "film" credits that presented the opera as "a Prosciutto e Melone production" starring "actors" such as Cesare Ensalada and Oriana Fellatio. When we finally transitioned to Puccini's music, the curtain rose to reveal an open-faced two-story house strung with stereotypically Italian clotheslines and laundry, entirely in black and white, against the backdrop of a black-and-white photo of Florence. The costumes, likewise in black and white, updated the action to the 1940s. Gianni Schicchi himself was a Sicilian Mafioso in a pinstriped suit, while his "ingénue" daughter Lauretta was a sultry Sofia Loren-type with a knife in her garter. And the comic business was anything but subtle. Buoso Donati's will was found in a pot full of spaghetti, and his corpse, instead of being stowed offstage when Schicchi takes his place in bed, was disguised as a panhandler on the doorstep… and the oblivious doctor and notary both gave him money! In a final black comedy twist, Schicchi never got to enjoy his ill-gotten wealth – the vengeful Zita stabbed him, leaving him to drop dead at the end of his final speech.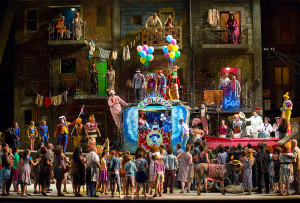 Pagliacci, in a departure from Franco Zeffirelli's usual style, was also updated, in this case to the 1960s or '70s. After a circus-style colored light show against the curtain, quickly deconstructed by the sentiments of the Prologue, we found the scene set in front of a cramped urban tenement with hanging laundry, graffiti, and a neon "Bar" sign on the ground floor. Both street and balconies were populated by slum-dwellers of all ages, with no shortage of rowdy children, women of questionable virtue, one or two people of ambiguous gender, and randy men with no sense of personal boundaries where women were concerned. These trashy yet colorful surroundings were the perfect space for Canio's pagliacci troupe, with their eye-popping costumes, acrobats and stilt-walkers, show full of quirky visual effects, live donkey (how typical of Zeffirelli!), and flashy, convertible-drawn travel wagon – which behind the decorations was really a drab, weather-beaten trailer, a perfect symbol of the performers' lives beneath their personas.
Neither production was perfect. As usual in Zeffirelli poductions, Pagliacci sometimes became too busy, distracting from the principle singers – the crowd present during Nedda's aria was especially disconcerting. And not only was Gianni Schicchi slightly heavy on the ham and cheese, it wasn't fully consistent with itself. It was hard to believe that forging a will would still be punishable by hand-amputation in the 20th century, and while the not-so-innocent characterization of Lauretta was fun, it made you wonder why Schicchi hides his elaborate scam from her when she seemed like the type who would gleefully join in. But both stagings were visually striking, cinematic and full of life, and both were good, solid backdrops for the performers.
Plácido Domingo, in one of his rare forays into comedy, gave an effective if not inspired performance as Gianni Schicchi. The superstar tenor-turned-baritone effortlessly commanded the stage as always, sang with his usual burnished tone if not with the ideal dark heft, and managed the comic business efficiently, though predictably without the hilarious abandon and wit of a Tito Gobbi, an Alessandro Corbelli or a Thomas Allen (who sang the role at the production's premiere). As Lauretta, Andriana Chuchman sang a beautiful "O mio babbino caro" and had great fun with Woody Allen's feisty, sexy concept of the character, while the sumptuous-voiced Operalia winner Arturo Chacón-Cruz was an equally likeable presence as her lover Rinuccio. Meredith Arwady was a rich-voiced, appropriately belligerent Zita, while all the rest of the grasping relatives and unsuspecting visitors were uniformly hilarious – I also give a warm hand to the actor who played Buoso Donati's corpse and managed to stay perfectly still onstage for the entire opera. Grant Gershon held the performance together with first-rate conducting.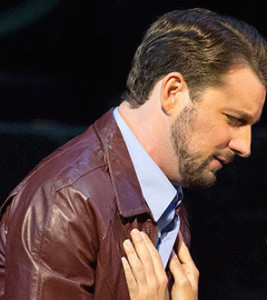 In Pagliacci, Marco Berti, whose LA Opera debut in La Bohéme I saw at age seventeen, was an excellent surprise as Canio. From the nicely-sung yet stiff, unremarkable Rodolfo I remember, he's grown into a thrilling artist. He sang with a luxurious, powerhouse spinto tenor and brought the character vividly to life – the amiable showman façade, the dark, brooding man underneath, and the uncontrollable rage and anguish over Nedda's infidelity. His sobs at the end of "Vesti la giubba" were truly gut-wrenching, making us forget what a joke that moment has become in popular culture. Ana Maria Martinez, a mainstay artist of the LA Opera (she was my first live Violetta, as well as Mimí to Berti's 2004 Rodolfo) was a consummate Nedda, displaying a rich lyric soprano and an effortless range of emotions – anguish, tenderness, rage, terror, comedy as Columbina, and even some sympathy for the husband she betrayed. George Gagnidze brought a rich, dark voice and nicely imposing presence to the role of Tonio, though his acting fell slightly flat; in his attempted rape of Nedda, all the intensity came from her. Liam Bonner (who also sang the small role of Marco in Schicchi) was a strapping, robust-toned Silvio, while Brenton Ryan made the most of his brief "Arlecchino" aria as Beppe. Plácido Domingo, trading his Schicchi pinstripes for a tuxedo, effortlessly conducted the opera in which he once commanded stages worldwide as Canio.
The audience went wild at the end of each opera, giving both an exuberant standing ovation. Despite its handful of flaws, this double bill shone with charms and thrills both operatic and cinematic. It was the perfect opening for this landmark season at the LA Opera.
SaveSave