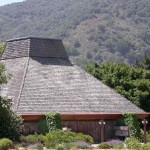 Cast
Mimí: Rebecca Davis
Rodolfo: Ben Gulley
Musetta: Sara Duchovnay
Marcello: Joe Hager
Colline: Isaiah Musik-Ayala
Schaunard: Gabriel Pressier
Benoit: Justin Gardien
Alcindoro: Art Schuller
Conductor: Stewart Robertson
Director/Set Designer: Robert Darling
Costume Designer: Jocelyn Herndon
Lighting Designer: David Moodey
This Bohéme was a landmark for me. It was my first time seeing an opera performed, not by some big-city company in a massive theatre, but in a small, intimate venue, on a modest budget, by a little-known yet very distinguished regional organization… the Hidden Valley Music Seminars institute, in the lovely Carmel Valley of northern California. For years I've wanted to see a small-scale, small-town opera performance, but I was never in the right place at the right time until now.
My excitement was enhanced by the fact that the opera in question was Bohéme, a piece naturally suited to simple, intimate staging. Furthermore, I had seen Bohéme in the LA Opera's lavishly realistic production just a few months earlier (see my ultra-long review: La Bohéme at the Los Angeles Opera, May 23, 2012), so I knew I would enjoy comparing two very different approaches to the same work. My final verdict at the end of the performance surprised me. While as a whole, the production didn't reach the LA Opera's level of quality, in many ways I enjoyed this performance every bit as much as I enjoyed that one.
The Hidden Valley theatre, surrounded by hills, grass and trees in a remote spot that lives up to its name, is a 300-seat black-box venue with only its outdoor courtyard for a lobby. Nor does it have an orchestra pit. The nine-piece orchestra performs behind a curtain to the right of the elevated stage, while the singers watch the conductor via TV monitors. From the moment I arrived, I knew that this would be an opera experience like no other I've had… in a good way. Every seat in the house was just feet away from the performers. Every facial expression could be seen clearly, every subtle gesture could be read, and we, the audience, could engage with the story as fully as if it were a movie.
Predictably, the production design was minimal, yet atmospheric. The tiny square stage was manually rotated to stand at a new angle for each act. Its only consistent set pieces were a door and a curtain, which at different angles became the door and wall of the bohemians'  garret, the Café Momús (in a clever touch, the stage became the café, while the surrounding black-box area was used as the street outside – with characters entering and exiting through the audience) and the Barrier d'Enfer tavern as needed. In each act, accessories were added to the set: windows, lanterns, chairs, tables, paper "snow," etc. A screen behind the stage further enhanced each setting with atmospheric projections.
There was no stage curtain: the scene changes were done in view of the audience, a la Brecht. In that respect, the production evoked Baz Luhrmann's famous production (which so far I've only seen in photos and Youtube clips – must try to rent that DVD soon!). Director/designer Robert Darling also took a few staging cues from Luhrmann, particularly in Act IV. As in the Luhrmann production, Mimí died in an armchair instead of a bed, and the final tableau consisted of her body in the chair at center stage, with Rodolfo and all the others standing motionless and weeping in different spots throughout the room. But unlike the Luhrmann Bohéme, this one was performed in 19th century dress. I couldn't quite say which decade (the costumes were hardly Catherine Martin or Peter J. Hall quality, after all), but it leaned toward 1890s fashion.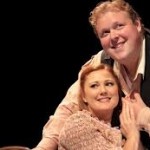 So far so good, but if the performers had been subpar, then this Bohéme would have paled in comparison to the stunning Herbert Ross production I saw in LA. It was the array of outstanding talent onstage that made this production truly effective.
Rebecca Davis was an ideal Mimí – her lyric soprano was a beautiful blend of lush warmth and girlish purity, and her characterization was sweet, lovable and heartfelt without a trace of melodrama. Ben Gulley, a Metropolitan Opera National Council Auditions winner making his professional stage debut as Rodolfo, disconcerted me at first with his fairly Pavarotti-like figure, but soon won me over with his bright, sparkling, powerhouse tenor and his endearing sincerity as an actor. Sara Duchovnay was a shining Musetta, with elegant beauty and a light, honeyed soprano that contrasted perfectly with Ms. Davis's girl-next-door charms and richer tone, and who made the character sassy, sensual and spunky, yet always human, never a caricature. This Musetta was unquestionably in love with Marcello and distraught by their breakup even as she pretended to laugh in his face. As Marcello, Joe Hagar was a handsome, strong-voiced presence and believable both as a sardonic, hot-tempered artist and as a true friend.
Isaiah Musik-Ayala's Colline and Gabriel Preisser's Schaunard were impeccably sung and flawlessly acted and the whole principle ensemble worked wonderfully together, both in playful high-jinks and in the final scene, where subdued yet aching grief was beautifully conveyed by everyone. Meanwhile, good comic relief was provided by Justin Gardien's Benoit and especially Art Schuller's Alcindoro. The performance's only real weakness, I'm sorry to admit, was the chorus – a small group of volunteers from the local Camerata Singers. While I know they worked very hard, they just weren't on the same level as the principles.
Stewart Robertson, longtime music director of New York's Glimmerglass Opera, conducted the tiny orchestra with an effective hand. I thought it would feel strange to hear Puccini's lush score performed by only nine instruments, but much to my surprise, I never missed the standard full orchestra. It was a different sound, but in such a small yet acoustically excellent venue, it worked.
The production was sung in English, in an excellent translation (no author credited). At first I was skeptical about hearing Puccini in anything but Italian, but as it turned out, the English text enhanced the dramatic immediacy and intimacy of the performance.
Intimacy and warmth characterized the whole evening. Even the Intermission, when coffee and food were sold at outdoor tables, and the end of the performance, when a refreshment table was brought into the theatre itself. (All the snacks were Parisian themed – croissants, cheese, cream puffs, macarons, etc. I didn't buy any, though; my loyalty to Weight Watchers proved stronger than temptation.)
In short, apart from a few drawbacks, my first experience of a small-scale regional opera performance was outstanding. It was a very different experience of Bohéme than the starry big-city production I saw in May, but just as valid and in various ways just as good. I hope to visit more small-scale, regional opera companies and programs in the future, and I hope to visit Hidden Valley again soon. This Bohéme may not have had glamour or large personnel, but it had the synthesis of wonderful music and engaging storytelling that makes an opera performance truly great.