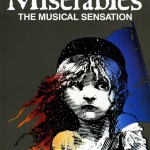 I hope I don't lose half my followers when they see that I've written a tribute to a Broadway/West End musical. I know that some opera buffs turn up their noses at anything that isn't operatic. But I'm not one of those people and this is a tribute that I want to pay.
Before opera, my passion was musical theatre. I constantly listened to Broadway cast recordings, obsessed over the film versions of Annie, West Side Story, and others, acted in a children's musical theatre group, and was generally a textbook preteen musical lover, if such a thing exists. But after I discovered opera, musicals lost their luster. I still enjoyed them, and still do enjoy them, but only occasionally as light, nostalgic fun.
Except for one. Les Misérables, which I discovered at age thirteen. That musical has kept its place in my heart. No other has ever captivated me the same way, or ever will. Not even The Phantom of the Opera, with its opera-based plot and pseudo-classical music, or Rent, Miss Saigon, and Elton John's Aida, direct adaptations of operas, speak to me the way Les Mis does. I'm not ashamed to admit that I love Les Mis just as much as I love any opera.
Why do I love it so much? It's hard to say… it appeals on so many levels. First of all, Claude-Michel Schönberg's music is magnificent, blending sweep and lyricism that suits the Romantic-era setting with a rock-influenced intensity that suits the grittiness of the story, and perfectly capturing the emotions of every moment. But more than that, Victor Hugo's sprawling story, as captured in the libretto, captivates me in dozens of different ways. It's both intimate and epic. It's romantic (both in the capital-R sense and in the lowercase-r sense), yet full of action and not (too) syrupy. It's brutal in its depictions of poverty, bloodshed and misery, yet it's not depressing: on the contrary, it's incredibly uplifting in the end. The characters are rich, realistic figures open to various interpretations. Really it contains everything that the most popular operas contain: the epic stature and socio-political conscience of Verdi, the humor of Mozart and Rossini, the tearjearking pathos of Puccini, and more. And its message of hope, love, forgiveness and compassion for the underdog is one I've taken to heart. I truly think this musical has made me a better person.
Now why do I say that this musical made me an opera lover? Well, in a way, it directly did. My love for Les Mis led me to a much lesser interest in the same authors' Miss Saigon, based on Madame Butterfly. (Even in Les Mis you can hear Schönberg's love for Butterfly – the melody of the song "Bring Him Home" bears a notorious resemblance to the Humming Chorus.) Out of curiosity about Saigon's source material, I rented a video of Butterfly, which played a key role in elevating my feelings for opera (already sparked by The Magic Flute a few years earlier) from a passing interest to a passion. But Les Mis also played a subtler role in my discovery of opera, which I never realized until just recently. Les Mis is really more like an opera than an average musical – not in musical style, but in structure and atmosphere. It's entirely sung, with no dialogue, and as I mentioned, its cathartic emotional intensity reaches Verdi and Puccini levels. For me it was the perfect stepping-stone between the world of musicals and the world of opera.
It goes without saying that I'm wildly excited for the release of the movie of Les Mis. For the past year I've been haunting every film- and theatre-related message board I know with my figurative tongue hanging out for the latest news about the project. I plan to see it several times and I plan to write about it. That's why I've written this now; so no one is surprised when they see an opera blogger writing about Hugh Jackman and Anne Hathaway singing Broadway standards. Opera may be my chief passion, but my love for Les Misérables, to quote its libretto, is still "a flame that never dies."