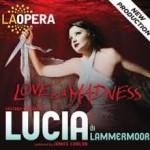 Cast
Lucia: Albina Shagimuratova
Edgardo: Saimir Pirgu
Enrico: Stephen Powell
Raimondo: James Creswell
Normanno: Joshua Guerrero
Arturo: Vladimir Dmitruk
Alisa: D'Ana Lombard
Conductor: James Conlon
Production: Elkhanah Pulitzer
Set Designer: Carolina Angulo
Costume Designer: Christine Cook
Lighting Designer: Duane Schuler
Movement: Kitty McNamee
This was a landmark visit to the opera for me: my first Lucia. In an opera history class I had seen excerpts both from the Met's HD Simulcast with Anna Netrebko and from the cheesy '70s film with Anna Moffo (and discussed the work at length from a feminist standpoint), but this was my first live and first complete performance of the classic coloratura soprano vehicle. For that reason, this review will hardly be as informed as others I've written. I can't compare the performance to others the way I do when I review operas I know better. But still, I know I enjoyed it.  The production wasn't perfect, but it was striking all the same, and the performers were excellent. All in all, I think Donizetti's tuneful tragedy was served well.
The production, a brand-new one created for LA by director Elkhanah Pulitzer, was one of those stagings that teeter just on the cusp between traditional and Regie, but lean more toward tradition. The set design was minimalistic, with stark walls and angular scenery that just barely suggested each locale, while the costumes were equally simple, stylized 19th century garb.  So far so boring, but what made the production memorable were the moody lighting and the cinematic CGI projections that enhanced every scene. The lighting was dark, but punctuated by ominous neon colors. We saw plenty of blood red at various points, as well as a backdrop of glaring yellow during the Lucia/Enrico confrontation in Act I (with Enrico's towering shadow emphasizing his power over his sister) and one of sickly green for the Mad Scene. Meanwhile, the projections created the trees of the forest and the archways of Enrico's castle, gave us a lovely light show perfectly timed to the music to carry us from the men's world to Lucia's between the first two scenes, and then showed us Lucia's vision of her ancestress's Ophelia-like ghost, complete with rippling water and flowing blood. Predictably, the Mad Scene saw this vision reappear. I'll admit that the imagery was a little distracting ("Very distracting!" according to the man behind me), but still, it was beautiful and fittingly eerie.
Apparently Pulitzer intended the projections and Donizetti's music to be the stars of the show, because as far as I could tell, she didn't introduce any grand new concepts into the staging itself. The singers were generally left to park and bark. But all the same, thanks to the projections and lighting, a magnificent atmosphere of gloomy Romanticism permeated the production.  That atmosphere was evident from the start, as the stage curtain rose to reveal a dark, misty cemetery in which we saw the Romeo & Juliet-esque joint funeral of Lucia and Edgardo, turning the rest of the opera into a flashback. Also, as was probably inevitable in a modern Lucia staged by a woman director, there was a strong undercurrent of feminist commentary, conveyed through the blocking of the chorus. While the men moved naturalistically, the women were rigid and puppet-like, perfectly poised marionettes with no agency, and the men's "dancing" with them consisted of wrist-grabbing and rough dragging. There was little attempt to make Lucia herself into more than a tragic victim, though – unlike in Mary Zimmerman's Met production which, as I remember from the DVD clips with Netrebko, makes more of an effort to portray her madness as a form of rebellion and liberation. In short, the staging was a mixed blessing, but still it provided a beautifully atmospheric backdrop for the performers.
Having seen Albina Shagimuratova two years ago as a truly star-blazing Queen of the Night in San Francisco, I knew she was well qualified for the ultimate coloratura role of Lucia, and she lived up to all my expectations. Her crystalline soprano excelled both in gentle bel canto lyricism and in the flights of virtuosity that make Donizetti's heroine a legendary role. Both her Mad Scene and her curtain calls at the end received thunderous applause that went on for ages. Admittedly, she came across as a singer, not a singing actress – she conveyed little beyond the basics of lovesickness, despair and delicate derangement – but what a singer she was! Her Edgardo, Saimir Pirgu, was an ideal partner for her in every way. The handsome young lyric tenor sang with a sweet, luxuriant tone reminiscent of Carlo Bergonzi, albeit a shade or two lighter, and acted with all the burning passion required for a character who's essentially a cross between Romeo, Heathcliff and Alfredo Germont. On the lower-voiced end of the spectrum, Stephen Powell was an appropriately stolid, smoldering Enrico with a firm, rich baritone voice – unfortunately, my lack of experience with this opera keeps me from knowing if other baritones have made this none-too-likeable character more sympathetic than he did, or less. James Creswell's Raimondo was likewise appropriately stolid in his clergyman's dignity, with a warm, handsome bass. The supporting roles – Joshua Guerrero's Normanno, D'Ana Lombard's Alisa, and Vladimir Dmitruk as the ill-fated Arturo, whose bloodstains have almost as much stage time as he does– were all well-filled. I don't know the score well enough to compare James Conlon's conducting to anyone else's, but as far as I'm concerned, he made every moment of the music sound beautiful. This performance accompanied the Mad Scene with a glass harmonica, as Donizetti originally intended, rather than the standard flute. Its eerie, otherworldly tone was a perfect compliment to Lucia's hallucinations.
Was this Lucia electrifying musical theatre? Not quite. And I don't know if Lucia generally is electrifying musical theatre, or if only the rarest performances lift it out of the realm of tuneful park-and-bark melodrama. But it was still a performance very much worth seeing, with vivid atmosphere, unforgettable imagery, and outstandingly talented performers who gave their all at every moment. It's made me want to see and hear more of Shagimuratova and Pirgu as soon as possible, and to explore other Lucias and get to know the opera in more depth. Regardless of its flaws, the whole cast, orchestra and production team of this performance deserve a resounding "Bravi tutti!"
SaveSave