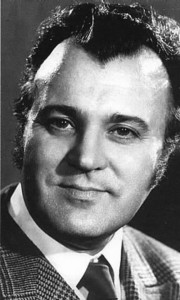 I don't remember the first time I heard Nicolai Gedda's voice. Unlike with so many other singers, no specific recording stands out as my introduction to his work. I almost feel as if I've always known him. His golden silk tone and his impeccable elegance have been familiar and reliable for as long as I remember.
The first aria I ever heard him sing was most likely either "Una furtiva lagrima," on EMI's compilation album Aria: A Passion for Opera, or "La donna é mobile," in the animated film compilation Opera Imaginaire. Both of those compilations were constant pleasure sources of mine in the early days of my opera love, though I don't remember which one I heard first. But it wasn't long before I discovered his complete opera recordings at my local libraries: his Tamino, Alfredo, Rodolfo, Pinkerton, Faust, Hoffmann, Des Grieux, Don Ottavio, Count Almaviva, Duke of Mantua, and Don José. To all those roles he brought a creamy, honeyed lyric voice with a seemingly effortless, gleaming upper register (even Pavarotti allegedly conceded that Gedda was their generation's best high-note tenor), outstanding technique, vivid intelligence as a vocal actor, and mastery of the various languages in which he sang. The first time I heard him sing in English, in an excerpt from Bernstein's Candide, I was astounded. His diction was so perfect that I never would have known he wasn't a native speaker!
I came to appreciate his artistry even more after reading the chapter devoted to him in Helena Matheopoulis's 1999 book The Great Tenors: From Caruso to the Present. Besides featuring a concise outline of his life and career and a description of his unique talents, it also includes direct quotes from him that explain his vocal longevity: namely that he took good care of his health, only sang roles that he felt fully comfortable with, and never stopped educating himself or fine-tuning his technique. The book also gives due attention to his linguistic skills and devotes particular praise to his performance of Gounod's Faust. According to Matheopoulis, his flawless French diction, his delicate balance between the "sensuous, lustrous timbre" that the "young" Faust needs and the vocal weight required for the elderly Faust of the prologue, and his dramatic skills and affinity for "interesting, psychologically complicated characters" combined to make him arguably the greatest Faust of his generation.
I'll admit, I once thought of him as a singer who appealed more to the intellect than the heart. To this day I find his Tamino slightly stodgy (an easy trap to fall into in that role) compared to the warmth of his contemporary Fritz Wunderlich, and when I first heard him in the Romantic Italian repertoire, I found him almost too elegantly reserved and missed the fire and sunshine of Bergonzi, di Stefano, Domingo or Pavarotti. The first role to fully make me realize his capabilities was his Don José– one of his more surprising outings, since the role is usually associated with loud, heart-on-the-sleeve spinto tenors, not light, refined lyric tenors. But Gedda made it work. His voice's lyricism reinforced the image of the naïve, prim-and-proper young soldier at the beginning, yet never lacked the requisite power as the bandit and scorned lover of the later scenes, and he infused the role with an abundance of passion, tenderness, grief and rage, never sacrificing his vocal dignity yet never holding back either. Hearing his José for the first time gave me an enormous new appreciation for him.
Rest in peace, maestro. Your artistry will set a shining example to young singers and seasoned singers alike for generations to come.
Music Clip: "Salut! Demeure chaste et pure"
Music Clip: "Le postillon de Lonjumeau" (an outstanding, rarely-heard showcase of his range)
SaveSave