This blog owes its existence to a lot of people and things. Obviously it wouldn't be here without the friends and family members who helped me discover opera in the first place. Nor would it be here without the LA Opera at the Dorothy Chandler Pavilion, or without music stores. (Ah, Virgin and Tower Records, how I miss you! Thank goodness Amoeba is still holding out!) And under no circumstances whatsoever would it exist without the libraries of LA.
I've always loved libraries. Even before I could read, my book-loving parents took me to visit them regularly, and to this day I adore their peace, quiet, and endless resource of books. But when I fell in love with opera at age fourteen, and discovered that libraries are a fantastic resource for filmed and recorded opera, my love for libraries increased a hundred times. They became my hangout the way malls are for other girls. Before the days of ITunes I would repeatedly check out my favorite CDs, sometimes bringing home four sets at a time, and when ITunes came along, almost every week I would bring home new CDs to upload. And the DVD and video collections! I couldn't and still can't get enough of them. Nor can I get enough of the various books about opera and its composers that I never knew existed until I found them on library shelves.
This is my tribute to the specific libraries that have fueled my love of opera and made my writing possible.
Santa Monica Public Library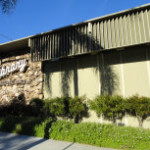 Where it all began. The first complete filmed opera performances I ever saw (the 1991 Met Zauberflöte with Battle, Araiza, et al, and the 1983 Verona Butterfly with Kabaivanska) both came from here and it quickly became my go-to source for VHS, DVDs and CDs. So many new recordings I discovered in those first few years of visiting: Serafin's classic Rigoletto with Gobbi, Callas and Di Stefano, Karajan's Don Giovanni with Ramey, et al, Karajan's second Carmen with Baltsa and Carreras, Ceccato's Traviata with Sills and Gedda, the Butterflies of Serafin (Tebaldi), Sinopoli (Freni) and Leinsdorf (Price), the Gluck Orfeos of Solti Gardiner and Runnicles… the list goes on. And on the video/DVD shelves, I found the classic Salzburg Don Giovanni with Siepi, Furtwängler, et al, Rosi's film of Carmen with Migenes and Domingo, Eva Marton's San Francisco Turandot and Verona Tosca, the Salzburg Cenerentola (Murray/Chailly), the Zeffirelli/Karajan Bohéme with Freni and Raimondi, Ponnelle's Rigoletto and Monteverdi Orfeo, and so on and so on. And before long I discovered their collection opera-related books too: their books about the operas of Mozart are especially outstanding.
Furthermore, the LA Opera has an affiliation with this library, so every year it hosts a series of "opera talks," which culminates in a free concert in June given by members of the LA Opera's Young Artist Program. I've only gone to a few of the talks, but I almost never miss the concerts! Throughout the last three years of the old, 1965 Main Library's existence (I still miss that building's basement auditorium, if only because I saw a few special events there when I was little, as well as my first LA Opera concert), throughout the tenure at the small, gray Temporary Library after the old one was torn down, and ever since the opening of the current, massive Main Library with its bright, modern, big-windowed ambiance, outdoor courtyard and café, and adjoining Martin Luther King Jr. Auditorium, I've been a loyal visitor. (Though it irritates me that when the new Main Library opened, they sold off their VHSs and made their film collection DVD-only: some of those videos were irreplaceable!) Now and then I also visit the various branches (Ocean Park, Montana, etc.), though their collections are smaller. To this day, Santa Monica is my chief library source for all things opera.
Beverly Hills Public Library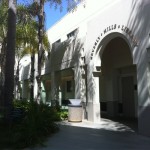 When I discovered this library, a year or two after I fell in love with opera, I went in hoping beyond hope that it would have at least one of two CD sets that the Santa Monica Library didn't have – Karajan's 1955 Butterfly with Maria Callas and Renato Fasano's 1965 Gluck Orfeo with Shirley Verrett. Amazingly, it had them both! And much, much more! Karajan's Bohéme, Hänsel & Gretel and first Carmen, Maazel's Don Giovanni, Kleiber's Traviata, Leinsdorf's Un Ballo in Maschera, the period-instrument Zauberflötes of Norrington and Gardiner, the Cenerentolas of Di Fabritiis, Abbado and Chailly, the Figaros of Giulini and Abbado, Ying Huang's debut CD, Cecilia Bartoli's Vivaldi album… I discovered them all here. And the video/DVD collection was equally impressive! The early '80s Glyndebourne Barbiere and Cenerentola, Sir Peter Hall's Glyndebourne Traviata, David McVicar's Covent Garden Flute and Rigoletto, Ponnelle's Butterfly, the San Francisco Bohéme with Freni and Pavarotti… and those are just a few of the ones still in the collection! Like the Santa Monica Library, Beverly Hills eventually sold off its VHSs and went DVD-only, which still annoys me. How I miss the old copies of the NYCO Manon with Beverly Sills, the Frank Corsaro/Maurice Sendak productions of L'Enfant et les Sortileges and L'Amour des Trois Oranges from Glyndebourne, and the VHS of Bergman's Flute with its pretty, colorful artwork, so much nicer than the black DVD case!
For the first several years after I started going to this library, the music collection was on the second floor. I must have spent hours up there, listening to CDs on my Discman in what almost felt like my own, private space. I wasn't exactly happy when the library was remodeled, that nice upstairs area was given over to reference books, and the music was moved downstairs to the main floor. But except for the discarded VHSs, it was still the same collection as before, and I still enjoyed visiting and still do. I've also found a few good opera-related books at this library, including the graphic novel opera adaptations of P. Craig Russell, most memorably his inventive if overly Bergman-influenced take on The Magic Flute. And every now and then, I let myself stop into the adjoining Kelly's Coffee and Fudge for some candy. I don't visit this library as often as I used to because it's a bit of a haul from where I live now, but when I do visit, its cozy, softly lit, forest green and white ambiance (such a different look and feel from the light, bright openness of Santa Monica) and its fantastic collection still never fail to make me smile.
Los Angeles Public Library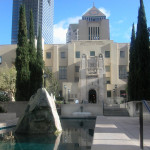 How did I not discover this magnificent place sooner? I knew it existed of course… I went to the Central Library on field trips in elementary school, and I was always in awe of its tremendous size and of its beautiful, Egyptian-influenced architecture and mosaic-covered, torch-topped pyramid roof. (It's very Masonic: Sarastro would approve!) But only recently did I discover its outstanding opera collection. Why is that? I think there are two answers: (A) it's in downtown LA, a very long haul from where I live, and (B) more importantly, the first time I went there looking for opera, I made a mistake. I only looked in the music and DVD room on the first floor, and while I did find a good collection of sound recordings (Abbado's second Barbiere, Sawallisch's Zauberflöte, Sinopoli's Cavalleria, Serafin's classic Bohéme, and others), I found no opera DVDs. I couldn't fall in love with a library that had no filmed opera performances.
But it turned out I was looking in the wrong place! When you visit this library looking for filmed opera, you need to go up to the second floor, up to the space that looks more like a library and less like a museum, then down the hallway that leads away from the gorgeous central room with its mosaicked dome ceiling. There, to the right of the colorful sculpture-covered chandeliers, stands the small, unassuming Art, Music & Recreation Department. Walk to the back of the room, where the shelves of arts-related videos and DVDs stand, and there you'll find the treasure trove. Nearly every Bohéme, Tosca and Butterfly I had ever heard of, nearly every Carmen and Traviata, nearly every Barbiere and Cenerentola, Joan Sutherland's Fille du Régiment and two Lucias, the famous 1985 Glyndebourne Rake's Progress, and nearly every Glyndebourne Mozart performance, as well as the Mozart/Da Ponte trilogies of both Enrico Castiglione and Peter Sellars. (It just wouldn't be right if a library with such Masonic architecture didn't have a good Mozart collection!) And more, much more! The best part is that unlike the Santa Monica and Beverly Hills libraries, this one still has their VHS collection! So if you want to find a certain older telecast that's either never been released or hard to find on DVD, the LA Public Library more than likely has it. Not only that, their collection of opera-related books (also housed in the Arts, Music and Recreation department) is probably the biggest and most impressive I've seen apart from the one at UCLA!
While I only manage to visit the Central Library once every few weeks, I visit its branches fairly often. According to Wikipedia, the LA Public Library system is one of the biggest publically funded library systems in the world, and I believe it: nearly every corner of LA has a branch! And while of course their opera collections are smaller than the Central Library's, I've still unearthed some treasures from them… Abbado's Carmen with Berganza and Domingo, Karajan's Rosenkavalier with Ludwig and Schwarzkopf, his Otello with del Monaco and Tebaldi, and Joyce DiDonato's Diva, Divo CD, just to name four. Every chance I get to visit either the Central Library or one of its branches, I'm eager to take!
UCLA Music Library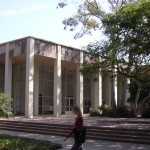 When I first started going to UCLA, I was disappointed to find that the Music Library, in its little corner of Schönberg Hall, seemingly had only books. But once again, I just hadn't looked hard enough. As it turned out, UCLA doesn't leave their music collection out in the open, but stores it behind the desk. If you're a student and want a certain recording, you have to look at their online catalogue to see if they have it, then ask for it at the desk, and they'll bring it out to you. At the back of the library is a room full of CD players, record players and TVs with DVD players, and you can rent headphones and watch or listen to anything on site. So many good recordings I found, both sound and visual, that none of the public libraries had: the Mozart/Da Ponte trilogies of Fritz Busch and Arnold Östman, Jeffery Tate's Contes d'Hoffmann with Araiza, et al, and possibly every period-instrument recording in existence of both Monteverdi and Gluck's Orfeos, and on DVD, the ENO Rigoletto, the 2006 Salzburg Don Giovanni, and many more.
And the books! If you want a book about the life of a composer, any composer, or about his works, you can probably find it here, whether it's common or rare and whether it's in English or not! It's here that I discovered the Cambridge Opera Handbooks, invaluable resources for the essays I wrote, and other books, too, including two excellent volumes on costume design in opera that I'd be happy to read again and again. Unfortunately, since I've graduated, I can't check anything out anymore. But I still live within walking distance of campus, and sometimes I still drop into the music library and stay there a while, sitting at one of the long tables and reading one of the great books on opera that they have to offer.
Miscellaneous
Whenever I go on vacation, I like to look into the local library, just to see what recordings and other opera-related things are available. Again and again I've been surprised by just how good the collections are! I never expected the modest small-town libraries of Carmel, Monterey or Mendocino to have good opera collections, but one glance at their video and DVD shelves proves that they do! It was in Carmel that I discovered Ponnelle's Figaro and in Mendocino that I first found the 1985 Glyndebourne Carmen! If anyone thinks that libraries are just for books, and that the only resources for opera are music stores and opera houses themselves, they need to think again! If not for libraries, I would have neither the knowledge of opera nor the passion for it that I do, and wouldn't be writing about it today. I'll even say that if not for libraries and their opera resources, I wouldn't be the person I am.