Cast
Noluthando Boquana, Mandisi Dyantyis, Thobile Dyasi, Ayanda Eleki, Zamile Gantana, Nontsusa Louw, Sifiso Lupuzi, Pauline Malefane, Bongiwe Mapassa, Zanele Mbatha, Siyasanga Mbuyazwe, Sinethemba Mdena, Zebulon Mmusi, Mhlekazi (WhaWha) Mosiea, Zoleka Mpotsha, Siyanda Ncobo, Cikizwa Ndamase, Busisiwe Ngejane, Zolina Ngejane, Sonwabo Ntshata, Tukela Pepeteka, Luvo Rasemeni, Masakane Sotayisi, Ayanda Tikolo
Conductor: Mandisi Dyantyis
Director: Mark Dornford-May
Musical Arrangement: Pauline Malefane and Mandisi Dyantyis
Costume Designer: Leigh Bishop
Lighting Designer: Mannie Manim
Choreographer: Clungelo Ngamlana
Few operas lend themselves to as much creativity as The Magic Flute does. Even the most "traditional" productions can look and feel completely different from each other. I've certainly seen some inventive Flutes in my 16 years of opera-going. I didn't think any staging could be more inventive than Barrie Kosky's animation-heavy "silent film" production. Well, now I know better… that Flute didn't have Mozart played on marimbas! Produced by South Africa's Isango Ensemble, Impempe Yomlingo is a Flute that, looks, feels and sounds like no other version of Mozart's masterpiece ever produced in its entire 223-year existence.
The Eli and Edythe Broad Stage is a small and intimate yet elegant theatre at the Santa Monica College Performing Arts Center. It opened in 2008 as a showcase for plays, dance, and music of all types from all over the world. Dustin Hoffman is the chairman of its artistic advisory board and other members include Tom Hulce, Plácido Domingo, Marilyn Horne, Frederica von Stade and Kent Nagano. The theatre has collaborated a few times with the LA Opera to produce new or rare works, but as far as I know this Magic Flute was its first production of an opera from the standard repertoire. But how different from a standard Flute it was!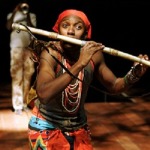 Impempe Yomlingo premiered in Cape Town in 2007 and has been touring the world ever since. During its 2008 London run, it won the Olivier Award for Best Musical Revival. Why did they label it a musical instead of an opera production? Because not one member of the 30-member, all-black, all-South African ensemble has had any formal operatic training – instead their singing style draws on African choir music. Nor is there any trace of a traditional orchestra. Mozart's score is played on marimbas, drums, and even a metal trashcan or two, infusing the European music with the sounds and rhythms of Africa. The magic flute itself, though depicted onstage as an actual flute, is represented musically by a jazzy trumpet, while glass bottles played as percussion represent Papageno's bells. The musicians also serve as the chorus, and they contribute to almost every musical number with African-style melismas, ululation, and other embellishments. And that's only the beginning of what makes this Flute unique!
The action plays out on a minimalist unit set – a raked wooden stage, with the musicians on either side of it, and a backdrop of metal fencing and scaffolding. There isn't a trace of the lavish fairy-tale settings often associated with this opera, nor of any fantastical stage effects. The "fire-breathing beast" that chases Tamino at the beginning is represented only by red light and smoke emanating from a trap door, and likewise, the fire and water trials consist of Tamino and Pamina venturing through glowing trap doorways, then reemerging. Occasional neon images appear (e.g. a blue crescent moon that lights up whenever the Queen of the Night is onstage), but nothing fancier than that. The costumes are mostly modern South African dress, but with a few traditional tribal outfits here and there. It's as if we're seeing residents of a South African township staging Mozart's opera with the few resources they have, but with no limit on exuberance, and with their own musical idiom, languages and cultural filter. The performance is mainly in English, but with forays into Xhosa and other South African languages, and Tamino's initiation into Sarastro's brotherhood is portrayed as a Xhosa boy's traditional coming-of-age ritual, complete with ceremonial clothes and face paint. And the energetic marimba and drum rhythms are accompanied by constant dancing.
I'm sure that some Mozart purists would want nothing to do with this reimagined Flute, but I liked it. After all, what are most opera companies trying endlessly to do? Keep well-known opera fresh and alive. That's why Regietheater is everywhere; that's why Peter Gelb has been throwing the Met's resources into new productions. And this production is as fresh and, even more importantly, as alive as can be. From beginning to end it brims with passion, cleverness and joyous energy. And it's wonderful to see and hear a revered opera reimagined through the idiom of a non-Western culture! The familiar Mozart music loses none of its innate magnificence, but only gains new beauties from the fresh new arrangements and orchestrations. If anyone still needs proof that different cultures have great things to share with each other, this production will give them that proof.
As far as I'm concerned, this Flute has only two big flaws. The first is the lack of supertitles. It's never 100% easy to understand text when it's sung operatically, even if you speak the language, and these singers' heavy African accents make the problem even worse. Unless you already know the opera inside and out, I suspect you'll have some trouble following the plot. But that's the lesser flaw. The production's worst flaw is that it cuts an important aria – "Ach, ich fühl's." Pamina, who's supposed to be the opera's heroine, becomes the only major character with no aria. I don't understand why it was cut. Was it just to shorten the running time? (Then why not cut the Two Armored Men's duet instead? They're minor characters!) Was the coloratura too demanding for a voice without classical training? (Why did the Queen of the Night have no problem with her coloratura then?) Did they consider the aria too sad and maudlin? (Maybe – Pamina's whole characterization in this staging is more feisty and bubbly than usual and she's portrayed as mainly angry at Tamino's "faithlessness" rather than wilting in despair.) But whatever the reason for the cut, I hated it. Spunkier or not, Pamina becomes a cipher without that aria. That moment of beautiful anguish is what makes her fully human and makes her love for Tamino feel true and meaningful.
There are plenty of other cuts, too, most in the second act. Monostatos loses his aria, Papageno loses two thirds of his second aria, and the "Wie? Wie? Wie?" quintet and "Sol ich dich, Teurer" trio are both gone, as are the scenes of Papagena masquerading as an old woman. (Papageno's suicide attempt – itself reduced to a short pantomime – is out of despair of ever finding a Papagena, not because he saw her but then lost her.) But none of those cuts remotely bothered me the way the loss of "Ach, ich fühl's" did. Also, as in the Ingmar Bergman film, a few scenes in Act II are reordered. The scene where "Ach, ich fühl's" should be comes before the Queen of the Night's second aria instead of afterwards, and as in the Bergman's film, the chorus of Sarastro's priests comes directly before the fire and water trials. We also get a new, brief yet emotionally weighty scene in which the Queen and her Ladies attack the priests and kill three of them. This forces Pamina to realize her mother's evil once and for all and stirs Sarastro to sing the equivalent of "In diesen heil'gen Hallen" – here altered from a simple statement of belief in peace into a ballad of hope and strength in the face of suffering, sung with all the weight of South Africa's recent history behind it and by far the production's most moving moment.
Unfortunately, I don't know the names of the principle singers I saw. The roles are all double cast and the program gave no indication of which singers sang which roles at which performances. (Though I'm almost positive that the Queen of the Night was Pauline Malefane – co-founder of the Isango Ensemble and wife of fellow founder/production director Mark Dornford-May.) But they were all excellent. Tamino's voice was the most blatantly un-operatic of the principles', but it was still more than adequate and he cut an appealing figure as he should, while Pamina made the most of her little material. If the production had a real star, though, it was Papageno, who stole every scene with his humor, rich baritone voice and stage presence. (Plenty of stage presence – neither he nor Papagena wore feathers, but were a visually well-matched pair in that both were fairly obese.) The Queen of the Night in her lavish feather skirt and Sarastro in his white robe were both visually and vocally the production's most conventionally operatic figures: her effortless coloratura and his deep, luxurious bass were thrilling, with only a slight weakness in her highest notes and his lowest notes hinting at their lack of formal Western training. A solid if not very memorable Monostatos (who wasn't portrayed as an "other" in any way), excellent trios of both Ladies and Spirits (the latter trio looked and sounded more like Crystal, Ronette and Chiffon from Little Shop of Horrors than like the traditional Three Boys) and a chorus full of fantastic singers and dancers made the performance complete.
If you love opera but aren't a stickler for tradition and this Magic Flute comes to your city, waste no time in seeing it! The audience at the Broad lapped up every moment and rightfully so. It's not perfect, but it still brings outstanding new life both to the story and to Mozart's music. What an experience!
SaveSave