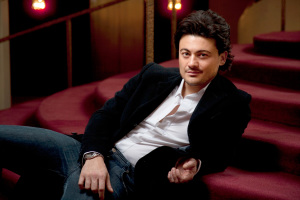 I have a confession to make: I don't particularly like recitals. I only go to them when the singer is a world-class star whom I'll probably never get another chance to see or hear live. As anyone who follows this blog probably knows, opera mainly appeals to me as a way of telling stories through music. When I do listen to opera music just for the music's own sake, I prefer to hear it on my IPod or the radio as I walk through a park or do housework – sitting in a dark concert hall with no sets, costumes or story, nothing but music for entertainment, is ever-so-slightly boring for me. Though I've heard some magnificent singers in recital in the past (Thomas Hampson, Angela Gheorghiu, Hei-Kyung Hong, Juan Diego Floréz, Elizabeth Futral, Jonas Kaufmann), I remember hardly anything about those recitals – what the singer looked like onstage and one or two musical moments at most. But this recital was different.
The moment it was advertised, my antipathy was trounced by the fact that the singer was Vittorio Grigolo. I fell in love with his voice back in 2011 when I first heard his CD Arrivederci. Soon afterwards I got to see him in the LA Opera's production of Roméo et Juliette – his boyish good looks, melting voice and exuberance were ideal for the role of the iconic young lover. Unfortunately, I had a panic attack during his duel with Tybalt and had to go home during intermission (Asperger's can be a curse). So I was anxious to hear him in person again and compensate for the half an opera I missed. This fantastic recital at the Broad Stage was the best compensation I could have hoped for.
Unlike most of the recitals I've experienced, this one didn't just showcase a voice. It showcased a personality. Grigolo sang with every bit as much energy and passion on that bare stage as he did in the role of Romeo. He didn't just stand and sing, or even "act" while standing in place. He threw himself into the music, walking around the stage, crouching down to serenade women in the front row, rising onto his toes on high notes, stretching out his arms in broad Italian gestures, and wringing out every ounce of passion, from anguish over lost love to ecstasy over requited love to fondness for the beauties of nature. The stage could hardly contain him – he was clearly a singer who belongs in fully staged opera, embodying a character, and he did just that as much as he could in each song. And his smooth, sparkling, caramel-sweet tenor was glorious from beginning to end.
The program was 19th century Italian music. It was mostly concert arias, some well known and some not, with only two obscure opera excerpts by Donizetti and Verdi. But the four encores at the end were more familiar territory: "Una furtiva lagrima," "Non ti scordar di me," "E luceavan le stelle" and "O sole mio." Before the Tosca aria, he gave a speech about how he thinks technology is being overused, making us lose touch with our senses and with all the small sensual pleasures that the doomed Cavaradossi pines for in the aria. It was slightly preachy, but he made it endearing, particularly when he said that he felt free to bare his soul to us because we had "become his friends" over the course of the evening. Corny? Trite? Maybe… but it was a little bit true.
The excellent pianist who accompanied him was Vincenzo Scalera, whose list of credits is long and illustrious – among other things, he was the harpsichordist for Ponnelle's classic La Cenerentola film.
In the audience I met a very nice woman who had been a music-lover for decades and even heard Beniamino Gigli in recital at the Royal Albert Hall. She was thrilled to meet a young person at this recital. I only wish more young people could have been there. We had an attractive, reasonably young star singer with a stunning voice, singing beautiful, romantic, sexy Italian songs with passion and exuberance that almost burst from the stage. What wouldn't have appealed to younger people? I wish the advertising had been less conventional. Instead of staid standard terms like "world-class voice" and "critically acclaimed" and only passing mentions of Grigolo's "energy" and "charisma," I wish the marketing campaign had been aimed at all ages, emphasizing his passion and energy and the gorgeous romanticism of the arias themselves, and making it clear that it wouldn't be your average stodgy recital. I'm as far from a recital fan as an opera lover can possibly be, but I loved it. I'm sure that more or less anyone would have felt exactly the same way.
SaveSave