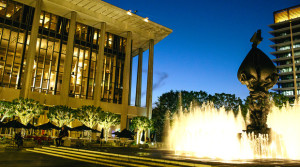 Cast
Figaro: Rodion Pogossov
Rosina: Elizabeth DeShong
Count Almaviva: René Barbera
Dr. Bartolo: Alessandro Corbelli
Don Basilio: Kristinn Sigmundsson
Berta: Lucy Schaufer
Fiorello: Jonathan Michie
Officer: Frederick Ballentine
Conductor: James Conlon
Production: Emilio Sagi
Director: Trevore Ross
Scenery Designer: Llorenç Corbella
Costume Designer: Renata Schussheim
Lighting Designer: Eduardo Bravo
Chorus Director: Grant Gershon
Choreographer: Nuria Castejón
Having started Figaro Unbound with chronologically later installments, and seen the main characters as cheating spouses and guilty parents (La Mére Coupable, The Ghosts of Versailles) or at least as grasping middle-aged fuddy-duddies (I Due Figaro), I'm sure that plenty of LA citizens were glad to go back to Il Barbiere di Siviglia, to see Figaro, Rosina and Count Almaviva when they were young and innocent and when the action was pure, delicious comedy.
This Barbiere was the LA Opera's second mounting of Emilio Sagi's visually striking, shamelessly wacky production, which has also been seen in Madrid, Lisbon, Pamplona and Paris, will be seen in San Francisco this coming fall, and was filmed in Madrid in 2005 and is available on DVD. As in Sagi's other LA production, his Carmen, the sets in this production (moved on and offstage by Brechtian costumed stagehands) had an old-school grandeur, but the costumes were a mix of periods, ranging from the 1750s through the 1920s. But unlike Sagi's Carmen, which was mostly traditional with just a few awkward hints of Regietheater, his Barber was gleefully surreal. The wallpaper in Bartolo's house was printed with pictures of Rossini. A massive sheet billowed up from under Don Basilio during "La calunnia" and filled the stage to represent a slanderous rumor's growth. Later, more sheets were used to tie Basilio up during the "Buona sera" quintet. The Act I finale had the characters fold origami birds and flap them, too dumbfounded to do anything else. Lively, eavesdropping, sevillana-dancing townspeople and servants populated every scene.
Most memorably of all, the sets and costumes were entirely in black and white for most of the opera, symbolizing the stodgy social order upheld by Bartolo. But late in Act II, during the thunderstorm, rainbow droplets poured down from the sky, and the stage transformed into a feast of color in the brightest, hottest, most cartoonish possible shades, representing the triumph of rebellious young love and working-class cunning. Then the grand sets vanished, making room for the whole ensemble to celebrate the Count and Rosina's marriage with a sevillana dance party, which ended with the newlyweds floating away in a hot air balloon.
The production definitely wasn't one to suit all tastes. Some people undoubtedly must have considered it tasteless, overblown goofiness. Besides its grand scale and its population of cheerful eavesdroppers clashed slightly with the plot. Why did a mere doctor, plotting to marry his ward because he couldn't afford to give her a dowry, live in such a palatial house with so many servants? But there was no denying that this production was joyous, funny, inventive and just plain fun. And striking though it was, the "concept" never (well, rarely) upstaged the singers; they still had all the room they needed to shine.
Rodion Pogossov was an effortlessly suave, energetic and likable Figaro, his light yet warm baritone meeting all the vigorous demands of Rossini's music. Even more brightly shining was Elizabeth DeShong's Rosina: her sumptuous mezzo timbre, sparkling coloratura and adorably feisty characterization were completely spot-on for the role. René Barbera, whose excellent 2013 LA Opera debut as Cenerentola's prince I remember well, was an endearing Count Almaviva, with a piercing, magnificently agile tenor that thrilled in "Cessa di piu resistere." Alessandro Corbelli, always a favorite artist of mine in the buffa repertoire, brought his usual flair for comedy, priceless facial expressions and rich-timbred bass-baritone to the role of Dr. Bartolo, though the orchestra sometimes drowned him out during intricate patter passages. Kristinn Sigmundsson had no such problem as a richly rumbling-voiced Don Basilio, a standout presence in all his scenes. (Not least because he physically towered over all the other performers, especially the diminutive Corbelli – why is Basilio always cast taller and Bartolo shorter?) Last but not least of the principles, Lucy Schaufer (whose cherubic Cherubino in Le Nozze di Figaro I saw in 2006) stole scene after scene as a cigarette-puffing, messily sneezing, eavesdropping goon of a Berta. James Conlon, whose program liner notes revealed that it was a long-ago performance of Barbiere that inspired him to become a classical musician, conducted with all the verve and charm that Rossini requires.
The audience lapped up the performance with no shortage of laughter and applause. Looking around me, I saw that plenty of parents brought their kids to the performance, which made me very happy – and as I was leaving, I overheard a middle-school aged boy gushing about how much he loved it. This witty, wacky, musically sumptuous performance was opera buffa at its most exuberant and crowd-pleasing. A very worthy addition to the Figaro Unbound project.
SaveSave