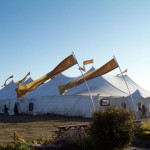 Cast
Gaudenzio: Eugene Brancoveanu
Sofia: Kelly Britt
Bruschino Sr: Paul Thompson
Bruschino Jr/Police Commissioner: Michael Jankosky
Florville: Sergio R. Gonzalez
Filiberto: John Minagro
Marianna: Erin Neff
Conductor/Stage Director: Allan Pollack
Assistant Director: Erin Neff
Costume Designer: Gail Daly
This performance fulfilled one of my longtime desires: to see an opera at the Mendocino Music Festival. For years my parents and I have spent one week of every summer in that ruggedly beautiful, adorably hippieish seaside town in Northern California. Occasionally we've gone to concerts as part of the annual Music Festival, but never until now have I seen an opera there. But now at long last I've seen one, and it wasn't just any opera, but a rarely performed opera that I'd never seen before! The experience was a double novelty – and one I enjoyed very much!
The Mendocino Music Festival's main venue, where any opera is performed, is a massive white tent that seats more than 840 people, built on the town's grassy headlands overlooking the water. (How I hope that some year they produce Madama Butterfly – it would feel so perfect in a setting with such a dramatic, stunning ocean view!) This was only my second experience of a small-town opera performance, the first being Hidden Valley's La Bohéme last September in Carmel (see my review): in some ways the Music Festival feels grander than Hidden Valley, while in other ways it feels even more humble. Grander in that the tent is more than twice the size of the Hidden Valley theatre, with a bigger orchestra; humbler in that it's still a tent, not a theatre, filled with folding chairs and the smell of damp grass. But otherwise, I was reminded quite a bit of last year's experience.
As at Hidden Valley, the only "lobby" at the Music Festival is the beautiful outdoors, where drinks and snacks are sold. Nor is there an orchestra pit; the musicians are placed behind the stage, hidden by sliding panels, and the singers watch the conductor on strategically placed TV monitors. And in a venue so intimate compared to big-city opera houses, every gesture or facial expression from the singers is visible and engaging … especially for me at this particular performance, because I had a third-row seat! The first half of the evening was a pre-performance lecture given by Allan Pollack, who did double duty as conductor and stage director. Then, after an intermission, came the opera itself.
Rossini's Il Signor Bruschino, a one-act farce written in 1813 when the composer was just twenty-one, is a quintessential example of opera buffa ridiculousness. Young lovers Florville and Sofia find their future threatened by the girl's guardian Gaudenzio, who wants her to marry the son of Signor Bruschino. So Florville disguises himself as the intended bridegroom and presents himself to Gaudenzio, only to be surprised by the arrival of the real bridegroom's father! Fortunately for the lovers, Gaudenzio is an idiot, and he assumes that Bruschino is just angry with his son and pretending not to recognize him. Thus the rest of the opera consists of everyone, both those in the know and those out of it, trying to force Bruschino to admit that a total stranger is his son.
Obviously, the piece is full of classic commedia dell'arte/opera buffa tropes, and in several ways brings to mind Il Barbiere di Siviglia: it even features a tenor/bass duet in which they sing in identical terms of love and money, respectively, and a happy ending achieved the exact same way as Barbiere's, by the signing of a conveniently-placed marriage contract just moments before the real intended bridegroom arrives. The score is classic Rossini, too, full of patter, coloratura, crescendos and general bel canto sparkle. Most of it is fully on par with the music of his better-known operas. Still, I understand why this isn't part of the standard repertoire. The plot and characters are silly enough to make the worlds of Barbiere and Cenerentola look completely sane, and the score is littered with lengthy arias and duets that grind the action to a halt. Even though it's half the length of Barbiere, it's much less tightly constructed. But while it isn't one of Rossini's greatest works, it's still good Rossini, and a funny good time.
This one-night-only production dealt with the plot's ridiculousness by refusing to take itself seriously for even a moment. Not only was it performed in modern dress, but set in Mendocino (as evidenced by the peace signs and exotic, New Age-y art that littered the scenery), and the staging was full of over-the-top physical comedy and Mendocino in-jokes. The wily young hero Florville was no dashing Count Almaviva type, but a bespectacled, tie-wearing nerd. His beloved Sofia was no ingénue, but a total Ms. Fanservice in a skin-tight leopard-print dress and heels. The Bartolo-like guardian Gaudenzio was an aging hippie who practiced Zen Buddhism and once ran for mayor of Berkley. And as for the titular Signor Bruschino, both the libretto's odd running gag of his complaining about the cold and his status as the opera's Only Sane Man were justified by his having "just flown in from Los Angeles" (a touch I appreciated!). The opera was sung in Italian, with supertitles projected on a sheet of cloth, but to ensure that the audience understood everything, about half the recitatives were replaced with English narration by the otherwise minor character of Marianna (presumably Gaudenzio's housekeeper in the original libretto, but here portrayed as his rent-free roommate).
Every member of the small cast gave a fine performance. As Florville, Sergio R. Gonzales sang with a crystalline, Juan Diego Flórez-esque tone and endearing nerdy exuberance. Kelly Britt was a slightly shrill Sofia, but charming, and she certainly had the figure to pull off the production's sexpot concept of the character. Eugene Brancoveanu (the only singer I had heard of before, thanks to his stint as Marcello in Baz Lurhmann's Bohéme on Broadway) stole the show from beginning to end as Gaudenzio, with his bright, silky baritone and expert comic timing. He was obviously too young for the role, but I'm not complaining – he was the best-looking aging hippie I'd ever seen! Meanwhile, cavernous-voiced bass Paul Thompson offered the requisite study in comic exasperation as Signor Bruschino. John Minagro provided good crotchety humor as money-grubbing innkeeper Filiberto, while tenor Michael Jankowsky contributed even more laughs as the Police Commissioner (and in a cameo as the real, staggering-drunk Bruschino Jr.), as did assistant director Erin Neff as our screechy-voiced, nerdy narrator Marianna. Allan Pollack conducted with a Rossinian exuberance that suited the insanity of his staging.
Once again, Il Signor Bruschino isn't a masterpiece. I won't particularly mind if I never see it onstage again, though I will look for the one major recording and the only existing DVD of it. (Apparently their respective Gaudenzios are Samuel Ramey and Alessandro Corbelli – tantalizing!) But still, this performance was a wild, wacky good time, full of talent, and an excellent introduction for me to the experience of opera in Mendocino. I only hope the Music Festival produces another opera in 2014: I can't wait for the next one!